Pause on facility in Teesside puts 700 jobs at risk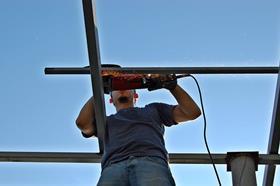 Chemical firm Air Products has paused construction of a £250m waste-to-energy plant in Teeside, putting 700 jobs at risk.
Air Products – which is providing engineering, procurement and construction (EPC) management on the scheme as well as being the client – said it was pausing the scheme, which is the second of two plants in Teeside it is developing, after identifying "improvements" that needed to be made on the first plant that would be "applicable to our second plant".
The firm said construction of the second plant, known as Tees Valley 2, was on hold "temporarily", but added the duration of the pause is "yet to be determined".
Union GMB warned the pause would put 700 jobs at risk and said it was in talks with Air Products "to try to resolve this appalling situation".
Construction on the Tees Valley 1 and 2 gas power plants started in June 2014 and were due to be completed in 2017, with a generating capacity of 49.8MW.
In a statement, Air Products said: "As with many ground breaking projects, improvements are identified as construction advances and new solutions put in place. This is the case for our first renewable energy facility currently being built (TV1).
"The learnings we are making here will be applicable to our second plant. By deferring construction we will be able to ensure any modifications are applied to TV2 in a cost-effective way when activity is resumed."
The firm also said work on the first plant wouldn't be interrupted, while it "remains committed to completing both facilities as soon as possible."
It added: "We will work with our contactors to wind down TV2 construction activity in a controlled way."
Air Products said the pause in the long-term, will "aid the overall operational success and future of both our renewable energy facilities at Teesside."