New hotel, 140 apartments and 100,000ft² office space for Liverpool Waters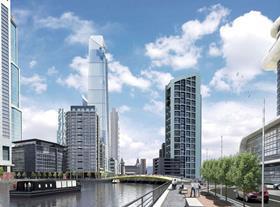 Peel Land and Property has announced three new schemes for its huge 60-hectare Liverpool Waters development.
Three new projects are now planned for the waterfront - an 150-bed hotel, an 140-apartment block and an eight-storey 100,000 sq ft office scheme.
A planning application has been submitted for the 100,000 sq ft Grade A office building element, which is to be named William Jessop House.
The new developments crown a busy month for Peel after it also revealed a new 40-storey tower, Pricnes Reach, will be the first new-build residential element of Liverpool Waters and could start on site early next year.