Chief executive Mark Reynolds says stockpiling materials will not reduce threat of costly delays to projects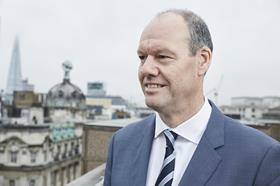 Mace chief executive Mark Reynolds is warning that contractors stockpiling materials ahead of Brexit will not be enough to prevent huge disruption in the industry if the UK leaves the EU without a deal next month.
The UK had been due to leave the EU on Friday but this has been extended by a further two weeks following a meeting of EU leaders in Brussels last week.
The UK has been told that if Theresa May's withdrawal agreement cannot get through the House of Commons a third time, it has to come up with a new plan by 12 April – or crash out of the EU.
But Reynolds (pictured), a leading member of the government-backed Construction Leadership Council, which helped broker the industry's emergency summit on Brexit at the end of January that was attended by a number of contracting chief executives, said: "All this stuff around stockpiling is great news but it's rubbish.
"I can stockpile aggregate, I can stockpile timber even to some extent but I can't stockpile a specific light fitting from a certain country… People are kidding themselves."
Reynolds repeated worries that the most pressing concern about the UK leaving the EU without a deal was the impact on importing materials.
He added: "Our biggest risk is movement of goods, by far. People are not looking into the detail, to understand the risks and what it means to their business and what they can do to mitigate them. For every week that we [Mace] are late on our UK-based projects, we estimate it will cost us and our supply chain about £2m."
On Monday evening, business minister Richard Harrington, who was also the construction minister, resigned from the government in protest at the threat of a no-deal Brexit and to back a cross-party plan to have a series of indicative votes, beginning later today, as an alternative to May's deal.
Harrington said crashing out of the EU would set the economy back by up to 10 years and called the prospect of no deal "a giant economic experiment that is championed by a small minority".
He added: "The clear message I have been receiving from the business community is that failure to secure a deal and to rule out a hard Brexit is resulting in cancelled investment decisions, business being placed abroad, and a sense of ridicule for British business, across the world."
Chris Hallam, a partner at construction law firm CMS Cameron McKenna, warned that a bad Brexit deal would push a number of firms into going under.
He said: "I fear that Brexit, and indeed the nature of Brexit we end up with, could be the difference between many businesses in the sector continuing or failing."
Talks are also due to take place between construction industry bosses and the Home Office next month to discuss extending the government's post-Brexit proposed temporary working visas from the current proposal of 12 months. Industry figures say there are more than 165,000 EU nationals working across UK construction.