Housebuilder reports jump in profit and hails government measures to stimulate housing market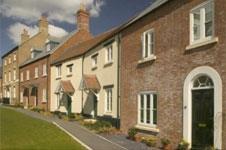 Housebuilder Persimmon has reported a 38% increase in pre-tax profit in the first half of 2013, with the firm hailing government schemes designed to stimulate the housing market.
In its results for the six months to 30 June 2013, the firm reported a pre-tax profit of £133m, up from £97m over the same period of 2012.
Persimmon report revenue of £900m over the first six months of 2013, up from £807m over the same period last year.
The firm said the government's Help to Buy scheme was boosting sales adding that its order book was now 21% bigger at £1.3m than it was at this point last year.
Nicholas Wrigley, chair of Persimmon said the firm was investing in the business "in support of increasing our future volumes".
He added: "In addition to good growth in sales and profits we have also reached our target margin range of 15-17% eighteen months ahead of plan. Our focus remains on the delivery of our long term strategy and we are well placed to continue to make good progress."
Wrigley said the firm's success had been down to the "expertise of all our employees". He added that he expected to see an increase in the number of customers visiting the firm's showrooms over the coming months.