Regulator is still pursuing Taylor Wimpey, Countryside and Barratt over sale of leasehold homes
Persimmon has agreed a deal with the Competition and Markets Authority which will see the housebuilder spend millions of pounds compensating historic buyers of leasehold tenure homes from the firm.
A series of undertakings agreed with the competition regulator will see Persimmon guarantee to sell the freehold of houses bought originally on a leasehold basis back to the customer for just £2,000.
The deal, part of the CMA's year-long investigation into several housebuilders over the selling of leasehold houses, means the probe into past Persimmon activity is now over. However, the investigation into Barratt, Taylor Wimpey and Countryside is ongoing.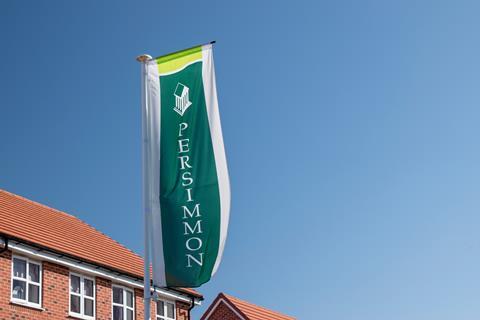 The CMA said it had also secured an undertaking from investor Aviva, which bought freeholds from housebuilders, to change the terms of freeholds it owns to remove "doubling" clauses which have seen the ground rent fee double every 10 or 15 years.
In addition, it has written to freehold investment firms Brigante Properties, and Abacus Land and Adriatic Land, ordering them to remove "doubling" ground rent terms from any freeholds they own or face court action.
CMA chief executive Andrea Coscelli welcomed the commitments by Persimmon and Aviva, but warned that the other firms under investigation could face legal action unless they followed suit.
The investigation follows a scandal over the selling of homes on a leasehold basis which emerged in 2016. Purchasers have said they were not informed of the implications of the practice, while some have seen their homes rendered worthless because of onerous clauses in the leases that make them unsellable.
Housebuilders including Taylor Wimpey and Countryside subsequently sold freeholds on to investment firms, meaning they were often not in a position to compensate buyers even after the practice was revealed.
Under Persimmon's deal with the CMA, any customers who have bought their freehold for a higher sum than the £2,000 fee agreed today will be compensated by Persimmon for the difference in cost.
Persimmon claims to have stopped selling leasehold houses in 2017 and has been offering its customers the chance to buy their freeholds under its Right to Buy scheme. A spokesperson for the firm said customers had typically paid around £3,750 for freeholds, meaning a number will be receiving compensation of nearly £2,000.
Chief executive Dean Finch said the firm had never historically sold freehold houses in "high volumes", but a spokesperson was not able to say how many buyers were affected.
Persimmon said in a statement that the "informal voluntary undertakings" agreed with the CMA had been made "without any admission of wrongdoing or liability".
Where the firm has sold on the freehold, a spokesperson said it would "work with all parties to secure a good outcome". It is understood the financial cost to the firm of the undertakings agreed will run in to low single-digit millions of pounds.
The CMA launched its investigation into the sale of leasehold homes with onerous clauses in February last year, making clear in September it was commencing enforcement action against the four housebuilders.
The investigation into Persimmon and Barratt has been for the possible mis-selling of leasehold properties, while Taylor Wimpey and Countryside are facing action for using potentially unfair contract terms in their leases. In February the CMA demanded that Taylor Wimpey and Countryside remove any remaining onerous lease clauses from contracts or face court action.
The CMA said the investors now being investigated had all purchased freeholds from either Taylor Wimpey or Countryside.
It said in a statement that Brigante Properties, Abacus Land and Adriatic Land "now have the opportunity to respond to the CMA's detailed concerns and avoid court action by signing undertakings to remove such terms".
Coscelli said: "It's good that Aviva and Persimmon have responded positively to this investigation, enabling these issues to be fixed for leaseholders. But our work isn't done. We now expect other housing developers and investors to follow the lead of Aviva and Persimmon. If not, they can expect to face legal action."
Finch said: "Persimmon has not historically sold leasehold houses in high volumes and introduced a Right to Buy scheme for leaseholders in 2017. However, we are committed to putting our customers first and have voluntarily agreed to extend this existing support to provide further certainty and reassurance.
"This agreement provides a fair deal for all leaseholders of Persimmon-built houses, extending the opportunity to purchase their freehold at a price well below market value."