Housebuilder alone among volume firms in not furloughing staff or taking state-backed loans
The UK's most profitable housebuilder has committed itself to not take up any of the government's coronavirus support measures as it responds to the pandemic crisis.
Persimmon has been alone among the listed volume housebuilders in not furloughing a significant proportion of staff, with the £3.6bn turnover firm continuing to pay all its staff in full even while sites have been mothballed.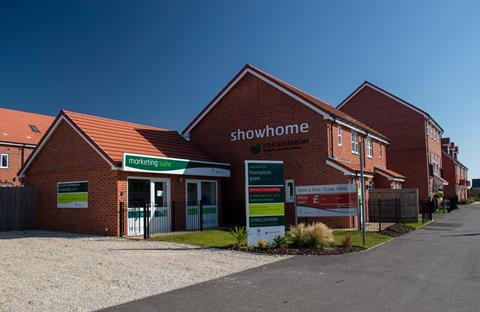 In a regular trading update to the City this morning, Persimmon said its forward order book had dropped to £2.4bn, compared to £2.7bn at the same point last year, following the impact of lockdown measures.
But it said that, prior to the lockdown, the sales rate at the firm had been around 10% above the same period last year.
Persimmon shut down all housebuilding sites on 25 March but this week began a phased re-start to construction work.
The statement said: "The Group has not made use of the Government's Coronavirus Job Retention Scheme to furlough staff and has no current plans to access any UK Government's COVID-19 funding."
Group chief executive Dave Jenkinson said the firm's strong financial position had enabled it to retain all staff on full pay through lockdown, without recourse to government financial assistance "despite the economic shock of COVID-19".
He said that decision had also enabled it to maintain operational capacity to allow it to restart work quickly.
Jenkinson, who has said he will be stepping down at some point, added: "The Government has been clear that it wants the UK's housebuilders to get back to building and this week we have started the phased process of getting back to work safely on site in order to deliver the new homes the country needs."
Cenkos analyst Kevin Cammack said the decision not to take any government assistance during the pandemic "stands Persimmon apart – we can all speculate on the reasons – but will mean a higher cash burn rate [than competitors] on fixed overhead".