Exclusive: New owner Axa and developer Lipton Rogers line up Brookfield Multiplex to build 'rationalised' tower scheme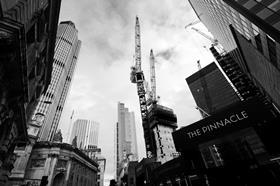 The new owners of the Pinnacle tower scheme in London's Square Mile have signed a pre-construction deal with Brookfield Multiplex, with the contractor set to build a radically redesigned tower scheme on the site, Building can reveal.
Fund manager Axa, alongside developer Lipton Rogers, sealed a landmark deal to buy the longstalled site from its former Saudi Arabian owners last Thursday, a deal first revealed by Building.
Axa and Lipton Rogers also signed a pre-construction deal with Brookfield Multiplex on the same day, Building has learned.
A source close to the project said Lipton Rogers will run a two-stage tender process for the scheme, but Brookfield should secure the full contract to build the tower "if they behave themselves".
Brookfield Multiplex was drafted in to build the ill-fated Pinnacle scheme by its former Saudi Arabian owner Sedco and sharia-compliant fund Pramerica, but it was unclear whether the contractor would be retained by Lipton Rogers. The source said however: "Brookfield Multiplex worked with [Lipton Rogers] all the way through and will be carrying on through the process."
Building has also learned Lipton Rogers plans to pull down the infamous nine-storey concrete core currently in situ on the site (pictured) - which has remained since January 2012 when funding for the original scheme dried up, earning the scheme the nickname 'the stump'.
Lipton Rogers intends to submit a redesigned scheme for planning in time to start construction on site this year, with a completion date of late 2018.
A source close to the project revealed to Building last week that the redesigned tower - renamed 22 Bishopsgate - will be "simple, a more rational form and not ostentatious like the Pinnacle was".
The source said the new tower will be shorter than the previous 288m-tall Pinnacle, but will cram on "near" to 2 million ft2 of floor space, a quarter up on the original 1.6 million ft2 Pinnacle planning consent.
Early designs for the scheme were leaked online last week, but these were working models for the new design and not final designs, the source said, adding: "It's a slicker building than has been seen."
The redesigned scheme will incorporate offices, retail, restaraunts, bars and a public viewing gallery at the top of the building.
Brookfield referred press calls to Lipton Rogers. Lipton Rogers declined to comment on the contractor selection. However, veteran developer Sir Stuart Lipton, of Lipton Rogers, said: "We have developed an innovative design for an exceptional office tower with art and character, shaped to respect views of the City. [It is a] new vertical City campus reflecting the City's ever-changing consumer base."
Lipton Rogers' project team includes architect PLP, engineer WSP and cost consultant Alinea.
The Pinnacle and its helter-skelter shape were first conceived 14 years ago, but the tower proved too costly to build.