Brookfield Multiplex set to build tower at 22 Bishopsgate under a fixed-price contract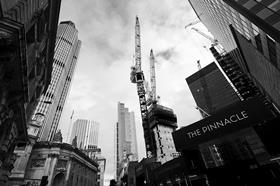 Contractor Brookfield Multiplex is set to build the tower at 22 Bishopsgate under a fixed-price contract for less than the reported £575m cost of the Pinnacle tower the scheme is replacing, according to the developer of the scheme.
Speaking exclusively to Building, Peter Rogers, founding partner at developer Lipton Rogers, confirmed that Brookfield had been appointed on a pre-construction contract to develop plans for the scheme, on a construction management basis.
However, he said that when the scheme design was tied down and specialist packages had been let that Brookfield would be tied into delivering the scheme under a fixed-price lump sum deal.
Rogers said that Brookfield helped Lipton Rogers work up its plans for the site, and that he had "liked their style" and consequently not talked to any other contractors about taking on the contract.
Brookfield had been engaged by the site's previous owners, a consortium of special purpose vehicles led by Saudi Arabian investor Sedco, to build the scheme for a reported £575m. But it had to take the owners to court for £16m in fees after the scheme stalled after just nine storeys.
Rogers said work on demolishing the "stump" would begin in the next two to three months, and that a planning permission for a new tower "slightly smaller" than the original, would be submitted "probably just after the election".