Developer Urbo submits plans for major project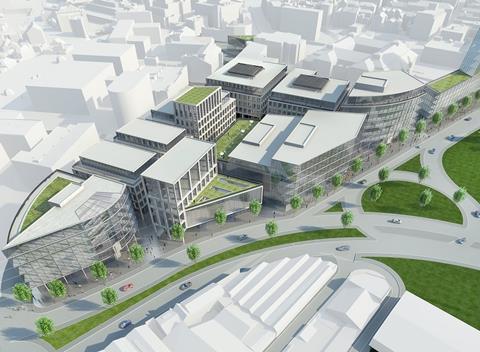 Developer Urbo has submitted plans for a £175m mixed-use regeneration scheme at West Bar in Sheffield.
The project, to be known as West Bar Square, has been developed in partnership with Sheffield City Council as a new extension of the city centre.
Masterplanned by 5plus Architects and urban designer Urbed the scheme aims to create up to 1.4millionft2 of space across ten buildings fronting Sheffield's inner relief road.
Over half of the space is to be offices with the plans also including apartments, a four-star hotel, retail and amenities.
Urbo's managing director Peter Swallow said: "We're delighted to move West Bar Square to the next level. It is a very significant development for the city and will create a premier business district to attract major employers. There has also been strong interest in private rented sector apartments with many investment funds eager to house people in a purpose-built environment"
The regeneration plans for Sheffield's Riverside Business District are part of a massive facelift for the city, which includes the long-awaited development of a new £480m retail quarter.
Last month Sheffield City Council named developer Queensberry Real Estate as its preferred partner on the scheme.
Urbo – established by Bolsterstone Group Plc, Arnold Laver and Co Ltd and AGD Regeneration Ltd in 2007 - is also delivering the £340m 60-acre Chesterfield Waterside scheme and the £150m residential development New Bolton Woods in Bradford.