Hub submits plans for 239-home redevelopment of Chesterfield House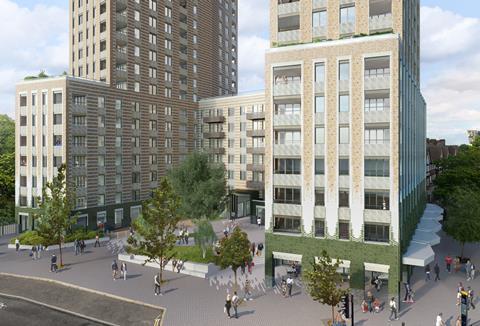 Developer Hub has submitted plans for a 239-home scheme on the old Chesterfield House site in Wembley.
Designed by Maccreanor Lavington Architects, the site will be comprised of two towers rising to 26 and 21 storeys with a lower level plinth to create a C-shape.
The 21-storey north tower will be entirely affordable housing with 103 flats offered at discount market rent, nearly half of the units being built and will house a community centre on the ground floor.
HUB development director Steve Sanham said: "Our plans will see Chesterfield House become a new local landmark in a changing Wembley.
"By aiding local businesses and creating new public and communal spaces, a redeveloped Chesterfield House will sit right at the heart of the community, while the provision of a high level of affordable housing through a range of discount market rent options will ensure high quality homes in Wembley are available for all."