Initiative aims to cut waste and speed up delivery of projects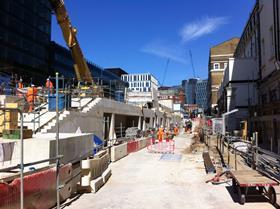 Government plans to overhaul UK infrastructure and boost the construction sector's productivity that could generate savings of £15bn a year have been announced today.
The Transforming Infrastructure Performance (TIP) plan aims to improve the effectiveness of investment in infrastructure by boosting productivity in the way assets are designed, built and operated.
The Transport Infrastructure Efficiency Strategy, which was also announced today, sets out how these lessons will be applied to drive efficiency and productivity in transport.
The plans were revealed alongside the National Infrastructure and Construction Pipeline which sets out projects for the next 10 years. The £600bn pipeline includes both public and private investment.
The TIP programme sets out how government will ensure projects are delivered efficiently. It contains long-term plans to transform infrastructure delivery, using the government's influence to drive modern methods of construction.
Government plans to encourage the use of methods such as off-site manufacturing were laid out as off-site manufacturing has potential to boost productivity by slashing waste by 90% and speed up delivery by 60%.
Speaking at the launch, Andrew Jones MP, exchequer secretary to the Treasury, said: "The £600bn scheme includes the planned pipeline of investment valued at £462bn over £240bn of which we expect to realise by the end of 2021. In order to realise the benefits of all this investment we have to make sure we can deliver these projects effectively and efficiently. Our projects need to be delivered on time and on budget."
Government transport secretary Chris Grayling said Crossrail was a prime example of long-term infrastructure investment. He said: "Crossrail is coming close to completion now. Its the biggest engineering project in Europe and it is on time and on budget. It is a real example that we can deliver, that Britain can deliver."
The TIP announcement comes after a spate of government commitments to infrastructure.
These include increasing the National Productivity Investment Fund to £31bn, supporting investments in transport and housing infrastructure, and boosting our digital infrastructure, including £176m for 5G and £200m for local areas to encourage roll out of full-fibre networks.
Industry largely welcomed the announcements and emphasised the importance of making sure they were followed through.