Plans to completely demolish and rebuild Euston station to make way for the high-speed project have been dropped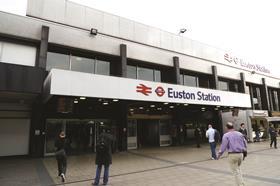 Plans to completely demolish and rebuild London's Euston station to make way for the high-speed rail line to the north of England have been binned.
The famous north London station - the sixth busiest in the UK - will now be developed by improving the existing station, the developer of the HS2 said this week, with 11 new platforms to be built for high-speed trains built around the existing platforms.
Previous plans for the station and surrounding area had been highly controversial with Camden council among those voicing objections.
Euston currently has 18 platforms, with the revised plan retaining platforms 1-15 but not 9 and 10 which will go to allow for the lengthening of adjacent platforms.
The £16.3bn London to Birmingham section of the rail project aims to be running by 2026.
The revised scheme also includes a new Euston Tube station ticket
Alison Munro, HS2 Ltd chief executive said: "We have identified an option that delivers great opportunities for the area while minimising the potential effects on local communities in Camden and on passengers.
"Economic work done as part of Camden council's plan for the area has demonstrated that there is a case for major redevelopment with the potential for commercial investment, and we want to look at these opportunities with Camden."
Munro described HS2 as an "engine for growth" which would create thousands of jobs as well as improving connectivity with England's northern cities.