Regeneration of Croydon picks up pace as revamp of Faifield Halls concert hall and surrounding area unveiled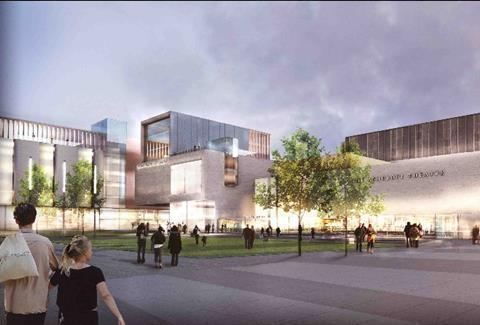 Croydon Council has revealed plans to turn Croydon College, Fairfield Halls and the surrounding College Green area into one of London's leading cultural and educational destinations.
Part of the mammoth regeneration of the brutalist south London city centre, the first phase of the plans will see the construction of a new college and the refurbishment of concert hall Fairfield Halls.
The wider plans for College Green will see the construction of hundreds of new homes, shops and restaurants, as well as new pedestrian paths and squares.
The scheme will be delivered through the council's in-house development business. The project team includes Rick Mather Architects, a practice known for its work on the Royal Festival Hall in central London and the Lyric Theatre in Hammersmith, and consultants Mott MacDonald.
Councillor and leader of Croydon council Tony Newman said: "Croydon is proud of Fairfield's heritage but it's time to look to the future. This ambitious borough wants to provide a cultural and educational offer to rival London's best. We want to return the Fairfield to its former glory by creating a contemporary venue and cultural quarter that will attract artists and entertainers from across the globe."