Exeter firm Mi-Space is set to replace composite cladding on three towers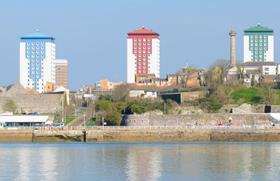 A Plymouth housing association has appointed a contractor to replace combustible cladding on three of its towers.
Exeter-based firm Mi-Space is set to replace composite cladding on the three 16-storey towers (pictured) known as Lynher, Tamar and Tavy House respectively.
Plymouth Community Homes (PCH) appointed the contractor via a negotiated procedure without prior publication due to the "extreme urgency".
Following last June's Grenfell tower fire in west London, PCH commissioned a review of the buildings, which identified the panels "as being of a combustible nature and unsafe from a fire engineering perspective, placing the occupants at an immediate and significant risk in the event of a fire breaking out".
Mi-Space, which is a subsidiary of the Midas Group, is being paid between £7.7m and £8.2m to carry out the works.
Housing associations are eligible to apply for funding from the goverrnment's £400m fund to help replace combustible cladding on social housing.
In May, it was revealed this funding had been taken from existing affordable housing programmes.