Police watchdog has told lawyers representing victims of construction blacklisting that police did provide information to the Consulting Association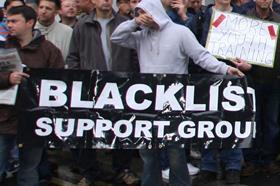 Police officers did supply information on workers to the organisation running the infamous construction industry blacklist the police watchdog has disclosed, according to reports.
The report in the Observer newspaper yesterday said police watchdog the Independent Complaints Commission has told lawyers representing victims of construction blacklisting that it had identified that it is "likely that all special branches were involved in providing information" that kept certain individuals out of work.
The admission confirms evidence given the whistleblower Peter Francis, the former undercover police officer who revealed to the Guardian newspaper that police carried out surveillance of supporters of the Stephen Lawrence family, who told the Guardian that police gathered intelligence on construction workers and pass this to blacklisting firm the Consulting Association (TCA).
According to the Observer, the IPPC's disclosure has been disputed by a senior investigating officer for the inquiry into the activities of undercover police officers, known as Operation Herne.
In a letter, seen by the Observer, detective inspector Steve Craddock insists that the IPCC's statement is incorrect and that he has seen "no conclusive evidence" that Scotland Yard shared information with the blacklisters.
However, the IPCC is standing by its correspondence, which it says was informed by discussions with the Metropolitan Police and that "developments since that … are a matter for the Metropolitan Police".
In response to the Observer, a spokesman for Craddock said Operation Herne's investigating officer was "aware of the apparent contradiction and is looking into how that may have arisen".
She added: "Operation Herne will report on the 'blacklisting' matter to the Metropolitan Police commissioner in due course."
The TCA blacklist was funded by 40 major firms and was discovered in 2009 after a raid by the information commissioner's office.
Last week in a major development eight of those firms agreed to launch a compensation scheme aimed at workers who were impacted by the use of the blacklist.