Exclusive: IPCC agrees to oversee investigation into claim that information on blacklisted workers came from the police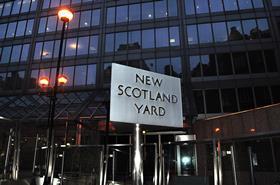 Allegations of police collusion in the blacklisting of construction workers will be subject to a major investigation supervised by the Independent Police Complaints Commission.
Earlier this month, Building revealed that the Metropolitan Police had dismissed a complaint from the Blacklist Support Group based on the claim of police involvement in the 3,200-name blacklist seized in 2009.
However, the IPCC has now upheld an appeal from the group's solicitor and will oversee an investigation carried out by the Met.
The IPCC is involved only in the most serious allegations of misconduct against police forces such as deaths or allegations of serious or organised corruption.
Leader of the Blacklist Support Group, Dave Smith, said some of the allegations relate to events as recent as 2008.
He said: "There are entries on some blacklist files that are surveillance reports about anti-racism demonstrations that took place nowhere near a building site. We have in other evidence to suggest that this information was compiled by undercover police officers.
"There are entries on other blacklist files that contain private sensitive information that has never been in the public domain and that no manager or director of a building firm would ever have access to."
Shadow business secretary Chuka Umunna, who last month led a major debate in the Commons on blacklisting, welcomed the IPCC's move as a positive step in getting to the "full truth".
He added: "Serious allegations that some information on blacklist files came from members of the police and security services…need to be looked into fully as part of getting to the bottom of the blacklisting scandal."
However, partner at Christian Khan solicitors, Sarah McSherry, who is representing the Blacklist Support Group, called for the investigation to be handed entirely by the IPCC given the Met's earlier decision to "non-record" the original complaint last November.
She said: "We will be making further representations to the IPCC that, given their deplorable lack of knowledge of the Police Reform Act and the seriousness of the allegations of widespread corruption and criminal behaviour on the part of Metropolitan Police officers, the [Met's] DPS should have no involvement in the investigation of this complaint, which should be the subject of an independent investigation by the IPCC".
The Metropolitan Police was unavailable for comment.