21,000-seat stadium will include new homes within main stadium structure
Southend United's plans for a new 21,000-capacity stadium designed by Populous have been approved.
Southend-on-Sea council's green light paves the way for the club's plan to relocate to a new purpose-built stadium at Fossetts Farm in the Essex town.
The new facility will provide the greater capacity and improved player and spectator facilities required for the National League team.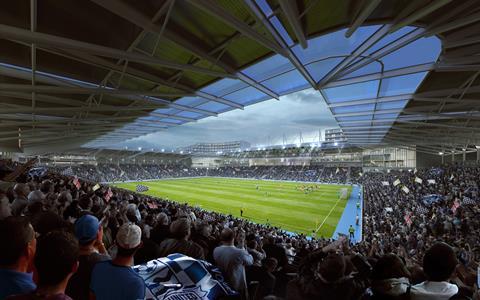 The stadium is part of wider plans to create a whole new neighbourhood in Southend-on-Sea, with 1,114 new homes to be built as part of the Fossetts Farm development.
It will include 333 affordable homes and will also allow for the regeneration of Roots Hall, Southend United's existing stadium, which will be redeveloped to provide 502 new homes for rent - which has also been approved.
The new residential area has been designed by CZWG and LDA Design.
Populous' designs fulfil the club's plans to create a mixed-use stadium development and will include a hotel and conference facility and mixture of retail and commercial spaces.
Football training facilities will further encourage footfall and activity within the area.
In stadium-related residential development, the units are typically housed in independent buildings but the proposal for Southend FC allows the residential development to sit within the stadium itself.
The North Stand will see the residential frontages combined with the stadium's conferencing and matchday hospitality spaces. The residential accommodation will be set on top of the stadium.
Phase one of the development, which is projected to be finished by 2023, will involve the construction of the three-sided general admission parts of the new stadium, as well as Supporters Way – a tree-lined approach that will be used by the majority of fans on match days.
The second phase of the project will complete principal parts of the development and overall masterplan, including the stadium's North Stand, indoor football domes and residential buildings.