Richard Unwin takes over from Tony Birkbeck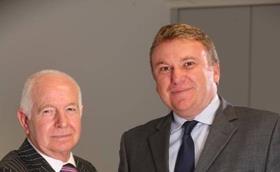 Richard Unwin has been appointed managing director of specialist cladding and roofing contractor Prater.
Unwin (right) replaces the retiring Tony Birkbeck (left), who has been with the firm for over 45 years.
Unwin joined Prater as a quantity surveyor in 1988, before moving into project management and working on several major projects, including the BA World Cargo Centre at Heathrow.
Prater was sold to German cladding giant Lindner in May last year.
Birkbeck said: "This truly has been an exciting and challenging industry to work in.
"During my time at Prater I have been fortunate to have been a part of many milestone projects such as the MI6 building at Vauxhall Cross, the NatWest Tower, Stansted Airport and the Olympic Park. I leave with great memories and the confidence that Richard will do an excellent job in taking this company forward."
Unwin said: "Tony has managed Prater through some very difficult times, and through two recessions, working closely with Michael Prater.
"It has been a great privilege to work with him and he will be a very hard act to follow, however I am looking forward to the challenges ahead."