Government's building energy efficiency retrofit scheme in line for cuts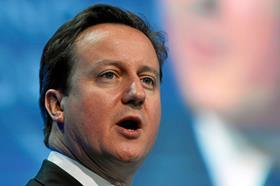 David Cameron has promised to "roll back" green taxes on energy bills after a succession of energy price hikes.
The government has come under increasing pressure to act to reduce consumers' energy bills after a number of the big energy companies have raised their prices in recent weeks.
Energy companies have blamed the government's green taxes for the rises.
The government is reported to be considering slackening the Energy Companies Obligation (ECO) – which pays for the energy efficiency retrofit of homes through a charge on all energy bills – to try and ease the pressure.
Today, Cameron said the government would "get to grips" with green regulations.
Speaking at Prime minister's questions in parliament today, Cameron said: "We need to roll back some of the green regulations and charges."
But the promise met with an angry reaction from the construction industry, which has gained a significant mount of work from the ECO. The scheme is currently proving a bigger source of work than its sister scheme the Green Deal.
The latest Department of Energy and Climate Change figures, published last week, showed that the ECO has led to the installation of 244,882 retrofit measures through to the end of August, with 215,705 properties benefitting from the installation of one or more measures through the scheme.
Paul King, chief executive the UK Green Building Council, said comments were "short-sighted" and "potentially very damaging".
He added: "With the cost of energy bills going up, policies such as ECO are essential in ensuring the homes of vulnerable and poorer income people are well insulated and will help to keep their bills down in the longer term.
"The government's own analysis shows that without these policies, bills will be much higher in the future."
Oter construction professionals took to Twitter to criticise the prime minister's comments.
John Sinfield, managing director of Knauf Insulation said: "Is it really good politics to make more people decide between eating and heating? #leaveECOaloneDave"
While, Rob Warren, head of technical at insulation firm Celotex, added: "I thought the 'Greenest Gov Ever' referred to environmental issues. Not to being the most naive. My mistake."
Last week, industry leaders warned that a cut to the ECO would likely lead to the loss of jobs in the construction industry.