Future king 'cheered' decision by Eric Pickles to throw out McAslan proposal for Smithfield market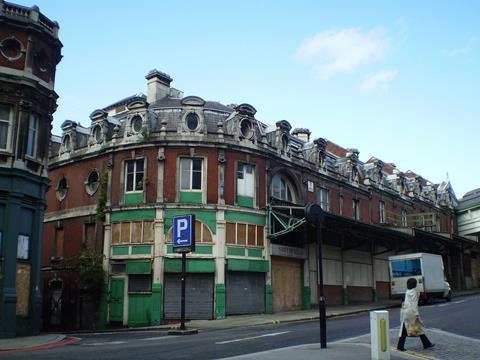 Prince Charles wrote to the property entrepreneur behind a rival plan for Smithfield market to give his backing, it has emerged.
Eric Reynolds said the heir to the throne had written to him in the summer following the decision by communities secretary Eric Pickles to throw out plans by John McAslan & Partners to redevelop the site for Henderson Global Investors.
Reynolds said the prince, who visited the site at the time of a previous inquiry in 2007 – after which the then communities secretary Hazel Blears rejected KPF's plan for total demolition – offered his congratulations when McAslan's plans were kicked into touch.
"He said he was cheered to see that the right result was achieved," Reynolds told Building's sister title Building Design. "He's very interested in the market and it's very nice to see that over the years he has consistently been in the background solidly cheering us on."
In July, Pickles said the McAslan proposals would have "an extremely harmful effect" on the historic buildings which "runs entirely counter to national and policy objectives intended to protect such assets from harm".
Reynolds, who runs Urban Space Management, put forward an alternative to Henderson's plans at February's public inquiry into proposals for the Victorian market buildings, alongside separate proposals by developer Cathedral Group, now owned by Development Securities.
Following Pickles' ruling, Henderson said it would keep the site and at the time, Geoff Harris, head of development at TIAA Henderson, said it was "surprised and extremely disappointed" and warned: "This decision will condemn these disused historic buildings to continued decay and yet further uncertainty."
To break the impasse, Reynolds said he had recently met Ros Kerslake, chief executive at the Prince's Regeneration Trust, which specialises in rescuing historic buildings at the risk of demolition, to see if it could bring Henderson and opponents of its plans together.
"We've been talking to them to try and depoliticise [the situation]. We're not against Henderson or McAslan," Reynolds said. "We're simply for the buildings."
Henderson's lease on the buildings does not expire until 2020 and also has a 999-year on the basement which it currently rents out to Crossrail.
Pickles also singled out the City of London Corporation, who own the buildings, for criticism.
"The deteriorated state of the buildings is, at least in part, the result of the history of deliberate neglect and, in assessing the planning balance, less weight should therefore be given to the current condition of the buildings and the consequent benefit of their repair," he said.
Henderson had six weeks from the date of Pickles' decison, 7 July, but has decided not to appeal.
This story first appeared on Building Design.