The Prince's Regeneration Trust has been awarded a grant to help start a training scheme for people interested in heritage site regeneration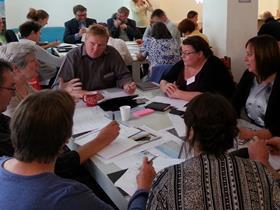 The £421,500 Heritage Lottery Fund Catalyst Umbrella grant will be used to teach individuals and groups about carrying out their own heritage regeneration projects.
The Building Resources, Investment and Community Knowledge (Brick) programme, funded by the grant, will include national talks, mentoring support and regional workshops.
The scheme, which will run for three years, is due to start in 2014. In the first year, the scheme will be supported by a mediation pilot, which will help communities working with private sector development partners.
The course will cover nine topics, from promotion and fundraising to creative options development. Throughout the course, communities will be able to support each other through a peer-to-peer digital learning platform.
Ros Kerslake, chief executive of the Prince's Regeneration Trust (PRT) said: "We see so many individuals and groups with the ambition to preserve heritage sites and reuse them for the good of the community.
"While it is impossible for us to directly work with each one, with this grant we will be able to engage and share our heritage expertise with many groups through training and the new digital platform BRICKwork."