Conservation body backs John McAslan + Partners' planned redevelopment of Smithfield Market having opposed previous plans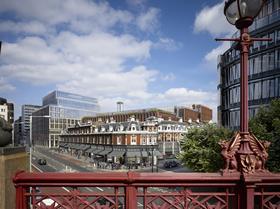 English Heritage has given its approval to John McAslan + Partners' planned redevelopment of Smithfield Market in London.
The conservation body has previously been opposed to earlier development plans for the site.
Development at the site has long been controversial because it sits at the heart of a conservation area and because of the historic nature of the area's buildings, two of which were designed by famous Victorian architect Horace Jones.
In the body's submission to the City of London Corporation it said that a level of new development was needed to ensure that historic features of the market were restored and retained.
It said: "The repair costs associated with the large size and very poor condition of the buildings, added to the need to repair the tunnel structures beneath part of the site, mean that long term viability is unlikely to be achieved without additional subsidy. We are persuaded that an amount of new development on the site is required."
It said any new development should be the minimum required to achieve long term viability and should "maintain and where possible, enhance the significance of the retained and conserved elements".
The architect's plans for the scheme, for developer Henderson Global Investors, entail the ground floor of the General Market building being transformed into restaurants and retail units. The majority of the Victorian perimeter of the General Market will be retained and the entire Fish Market and old engine house will also receive extensive restoration and refurbishment.
English Heritage said overall that the development caused only "moderate harm" to the conservation area.
It added that it was "regrettable" that the large open space at the centre of the General Market would be lost under the plans but that this was mitigated by the inclusion of a smaller piazza at the centre of the site.
It also said the loss of distinctive features such as 1960s concrete dome at the market were offset by the benefits of restoring the "richly decorated" perimeter buildings.