Architect aims to double turnover within five years by expanding into healthcare and higher education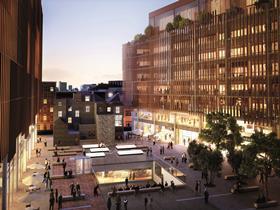 The bosses of UK architect Pringle Brandon have said the firm could nearly double its staff over the next five years following its merger with US design consultant Perkins + Will.
The 92-strong UK architect completed a merger with the US firm of 1,500 staff this week following 14 months of talks.
Jack Pringle, managing director of Pringle Brandon Perkins + Will (PBP+W) in Europe and the Middle East, told Building the firm could increase its headcount by 80%-90% in a mission to double turnover to around £15m within five years.
But he added: "We are not quite sure for how much of that [work] we would be able to use the existing offices [and staff] of Perkins + Will, and that might mean there's an increase of less than that - maybe around 60%."
Pringle said the growth would mostly be driven by new build work and expansion into markets such as healthcare and higher education, which are areas where Perkins + Will is strong.
Because we didn't have a New York presence, we weren't part of the conversation

Chris Brandon, PBP+W
Manuel Cadrecha, Perkins + Will principle for corporate commercial and civic practice, said he had experienced such growth after his previous firm joined with Perkins +Will.
"[My former practice] was an exclusively healthcare practice and [suddenly] I was doing science and technology and education and corporate projects."
Pringle said there was a good opportunity to leverage Perkins + Will's existing client base in healthcare with US-based hospital providers increasingly taking an interest in building facilities in the UK.
"The market is likely to be moving towards more private delivery of public services which is something worth having a
good look at," he said.
John Drew, design director at PBP+W, who started new build architecture arm Pringle Brandon Drew in September 2010, said the merger would precipitate a "quantum leap" in the firm's ability to deliver large schemes.
"A project like [PBP+W's 2.1 acre Shoreditch scheme on the site of the Curtain Theatre] would probably need up to 40 people to deliver it and that's a big ask of an organisation of our size," he said.
"It's one thing to put in a planning application but it's quite another to be able to deliver that."
Chris Brandon, PBP+W managing principle, said the 26-year-old UK firm had had to merge with a larger global player because it was losing out on work from global corporate clients in its home market.
Brandon refused to name clients but said the practice had lost one job for a "significant refurbishment" of a "large American financial institution's" London offices despite convincing the UK arm of the business.
He said the New York-based client wanted to be closer to the architect. "Even though the client was based here and the job was here, because we didn't have a New York presence we weren't going to be part of the conversation there," he said.
He said the practice had held talks with other European-based firms about possible mergers before entering discussions with Perkins + Will.
Pringle Brandon had initially tried to simply strike strategic partnerships with firms on a project-by-project basis. It was on Pringle's visit to Perkins + Will's New York offices to discuss just such a partnership that the seeds of the deal were sown.
Brandon was less keen until he visited the firm's Atlanta office, which has the second highest LEED sustainability rating in the world.
"Arriving at the firm's office in Atlanta, which it had built, completely transformed my impression of them, their passion for projects, design quality and relationships. There was immediate chemistry," Brandon said.
At a glance
Pringle Brandon
Founded 1986
Turnover 2011/12 £7.5m
Staff 92

Perkins + Will
Founded 1935
Turnover 2011 $365m (£243m)
Staff 1,500