Business profile Jack Pringle and Chris Brandon to stay in management, as architect continues to grow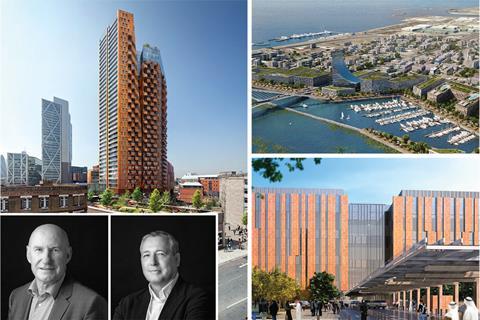 The Pringle Brandon name has been lost, three-and-a-half years after the architect merged with US firm Perkins + Will.
The merged firm has been known as Pringle Brandon Perkins + Will in the interim, but the former name of the UK commercial interiors specialist will now be dropped from the brand worldwide.
"It is essentially a name change, but it is also about brand recognition and trying to get the brand crystal clear - we are Perkins+Will," said managing director Jack Pringle (pictured above, inset left).
He added that "from the beginning [with the merger] we knew that brand confusion was an issue," but it was decided that the full name should be retained for a period to allow the market to adjust to what was a relatively unknown name in the UK.
Pringle Brandon became Pringle Brandon Perkins + Will in 2012 after it was acquired by US-based Perkins+Will, with its founders Jack Pringle and Chris Brandon (pictured above, inset right) picking up shares in the firm.
Pringle said the Pringle Brandon practice was attracted to the deal as its clients were saying they required support throughout EMEA and beyond, so without the tie-up they were running the risk of losing work.
The firm looked to collaborate with other architecture practices across the globe "to get international work, but also to protect our London client base because there was a definite move in the market to procure on a regional basis", Pringle said.
It is about brand recognition and trying to get the brand crystal clear

Jack Pringle, managing director
Since the 2012 merger, the London office has seen massive expansion and revenue has grown over 100% to £13.5m from £6.4m in 2012.
New premises are also being sought to house the combined practice's expanding London office, which has doubled in size and is currently occupying two buildings in the same street in Clerkenwell. Brandon said the move is likely to happen within the year.
This fast growth has also brought forward the rebranding of the operation. Brandon admits the full name was a "mouthful," which saw people just referring to the office as Pringle Brandon, dropping Perkins+Will, meaning it had become "a sort of farce".
PBP+W has significantly expanded its offering since the acquisition, moving into healthcare, urban design and hospitality, while retaining its core interiors architecture business and its more recent commercial new-build architecture practice.
Current projects include a private hospital in Qatar (pictured, bottom right), the regeneration project for the city of Antalya on Turkey's Aegean coast (pictured, top right) and mixed-use scheme The Stage in Shoreditch (pictured, left).
Plans are also already in the works to enter other sectors such as science and technology, higher education, transportation and retail, following last year's acquisition of Portland Design.
"We've been able to use Perkins+Will investment to dramatically change the nature of the office," Brandon said, which has included an increase in staff from 82 to 163 staff, including the appointment of Jo Palma as regional design director EMEA and Tom Hupe as director of hospitality.
Jack Pringle and Chris Brandon are to stay on as managing director and managing principal of the London office respectively.
The integration and rebrand of the London office has "clear benefits," according to Pringle, who said London is like "the centre of a new silk road, which is seen as having a massive reservoir of brilliant talent," which is very attractive to Perkins+Will.
Ultimately, Pringle and Brandon are proud of the business they have created to this point and have, Pringle said, "always done what was necessary to drive the business forward", being much more interested in being successful and doing great work than having their names above the door. This is the latest evolution in that process.