Bulging order book and 10% increase in pre-tax profit demonstrate fit-out specialist's got talent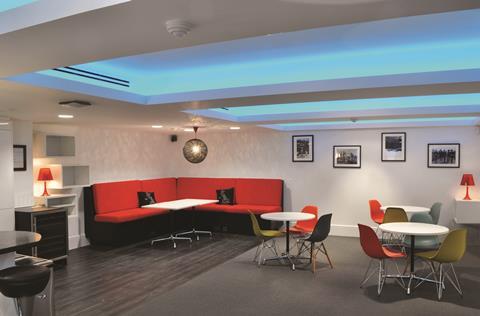 8build interior
Fit-out specialist 8build has clocked up a record £30m forward order book just a week into its new financial year, after reporting strong results for the past year.
The London-based firm - founded by eight former partners from rival ISG in 2005 - is benefiting from an increase in work in the commercial and high-end residential sectors.
In the financial year ended 31 March 2012, 8build reported a 10% increase in turnover from £45.5m in 2010-11 to £50m. Pre-tax profit also grew 10% from £500,000 to £550,000.
Reputation is everything. The clients know us and the reputation of our people

Nigel bellamy, 8build
One of 8build's founding partners, Nigel Bellamy, said the firm's strong order book would help it target £60m turnover in the current financial year.
The firm has made a strong recovery since 2009-10, when turnover fell to just £15m as fit-out work in the capital dried up in the wake of the financial crisis. Staff numbers have almost doubled since then, from 36 to 64.
Last week 8build moved into new expanded premises on Leman Street, a couple of blocks east of London's Square Mile.
The office - fitted out by the firm to a design by interior designer Linda Morris Smith - was purchased outright by 8build from its cash reserves.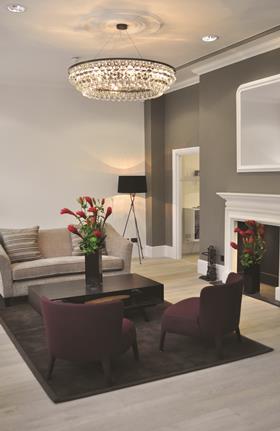 Bellamy said: "I'm pleased we've got out of the recession as good as we have. We've had to be fleet of foot to target growth sectors."
Those growth sectors include high-end residential, museums and hotels, Bellamy said.
8build's operations director Andy Tooley said the firm had fitted-out the homes of a "number of high-profile celebrities" in the last couple of years but said he couldn't name any of the clients.
About 30% of 8build's turnover is now from high-end residential fit-out. Some 50% of its work is in other fit-out, while the remaining 20% is made up of small
new-build construction, heavy refurbishment work and data centres.
In the commercial sector Bellamy said the firm was "punching above its weight" with last month's win to fit-out Debenhams' new west London HQ and recent fit-out completions for CBRE and News International - all contracts worth between £10m-20m.
Bellamy said: "Reputation is everything. The clients know us and the reputation of our people.
"We take on a lot of people with CVs that demonstrate they can bring in the big jobs."
8build has recently completed the fit-out of Southampton's SeaCity visitor attraction, which was set to open this week on the 100th anniversary of the Titanic setting sail from the port on its ill-fated maiden voyage.
8build's 18-month-old Singapore office broke even in 2011-12 after securing fit-out wins for major clients including Barclays Capital and Bank of America.
Bellamy acknowledged the market was still "tough" and said the firm's major focus for the year was to improve profit margins, which sit at just over 1% across the whole company.
He said 8build found the financial crisis particularly tough as big commercial clients cancelled fit-out contracts.
"We were meant to be doing a £3m-4m job for Lehman Brothers but before we started we got a call saying they were 'having some issues'. Then a couple of weeks later the firm went bust."
Despite the recession, 8build did not make any of its staff redundant which Bellamy said showed its "commitment" to its workforce and the principle of retaining expertise in the business.
8BUILD IN NUMBERS
2011/12
Turnover: £50m
Pre-tax profit: £550k
Staff: 64
Cash at bank: £2.6m

2010/11
Turnover: £45.5m
Pre-tax profit: £500k
Staff: 45
Cash at bank: £2.6m