Protestors disrupt proceedings as contractors make "sincere and unreserved" apology in court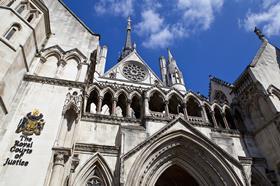 Eight major contractors have apologised in the High Court for their role in the blacklisting scandal, amid dramatic scenes in which protestors disrupted proceedings with chants of "no justice, no peace".
An agreed statement between eight firms known collectively as the Macfarlanes Defendants and claimants, read out in the High Court, said the contractors offer their "sincere and unreserved apologies to the claimants for any damage caused" and admitted in detail how blacklisting operated for four decades before being shut down in 2009.
In the past few weeks the Macfarlanes Defendants - Balfour Beatty, Carillion, Costain, Kier, Laing O'Rourke, Sir Robert McAlpine, Skanska UK and Vinci - have settled out of court with over 700 claimants, with pay-outs thought to total more than £25m. Today the three-year case was formally brought to an end in the High Court by the judge, Mr Justice Supperstone.
One of the blacklisted workers in the case, Roy Bentham, told the judge he did not want to accept a settlement and wanted to progress the case to a full hearing on his own and asked for two weeks to prepare his evidence. But the judge rejected his application and a subsequent request for the right to appeal, saying there were "no grounds" on which an appeal would succeed.
Despite the case drawing to a close, some blacklisted workers are still not happy with the pay-outs. Members of victims' group the Blacklist Support Group protested both outside and inside court today, at one point interrupting the reading of the agreed statement with chants of "no justice, no peace" as the contractors' QC Andrew Caldecott said the firms offered their "sincere and unreserved apologies".
Our apology was given sincerely and was genuinely accepted by all parties. This was a key part of the agreement that was reached

Macfarlanes Defendants
Before proceedings could continue, Blacklist Support Group secretary Dave Smith shouted that "under no circumstances do we consider this to be a sincere apology", comments met with applause by other members of the group in the courtroom.
The Blacklist Support Group and union Unite have renewed their calls for a public inquiry into blacklisting in recent days.
A spokesperson for the Macfarlanes Defendants said: "Our apology was given sincerely and was genuinely accepted by all parties. This was a key part of the agreement that was reached."
The spokesperson added: "It's a closed chapter. The industry has learned and changed as a result of this case. The Macfarlanes Defendants have put in place policies and training programmes to ensure this can never happen again.
"We are pleased to have reached an agreement so settlements can be paid without a lengthy court process, saving on cost for all parties."
Commenting on Bentham's statement, the Macfaralanes spokesperson said: "The settlement covered all of the claimants. As the judge said today, if there is a disagreement it is a matter between Roy Bentham and his solicitors."
The Macfarlances Defendants and four blacklisting victims groups represented by Unite, Ucatt, the GMB and the Blacklist Support Group (BSG) all settled in recent weeks.
Four further firms not represented by Macfarlanes in the case - Cleveland Bridge, Amec, Bam and Lendlease - are also understood to have settled all their claims. Bam and Lendlease have confirmed they have settled their cases, Amec declined to comment, while Cleveland Bridge was unavailable for comment.
The joint statement between the Macfarlanes Defendants and the claimants conceded that blacklisting had taken place from at least the early 1970s to 2009.
The statement admitted that information held by blacklist operator the Consulting Associaiton on workers commonly included employment and personal details including, in some cases, information on a worker's health or personal relationships.
In a number of cases information held also included "suspected political affiliations or sympathies or perceived militancy", as well as "trade union affiliation" and activities such as "complaints about health and safety conditions or breaches of employment rights".
The statement also confirmed the six chairmen of the Consulting Association, Cullum McAlpine of Sir Robert McAlpine (1993-1996), Tony Jennings of John Laing Construction (1996-1999), Danny O'Sullivan of Kier (2000-2001), Stephen Quant of Skanska UK (2002-2003), Trevor Watcham of Balfour Beatty (2004-2005) and David Cochrane of Sir Robert McAlpine (2006-2009).