Building survey reveals fewer than one in three public clients have changed procurement since 2011 launch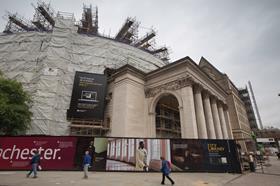 The government Construction Strategy is still failing to have a significant impact in the wider public sector two years after its launch, according to a survey of more than 300 construction clients conducted by Building.
The survey, which included 120 respondents from central government and the wider public sector, found that the number who have in place a strategy to reduce construction costs by 15-20% over the life of the current parliament – a key objective of the Construction Strategy - has actually fallen slightly in the last year. The number declined from 30.7% in 2012 to 29.9% this year.
In addition, the number of public clients who said they had changed the way they procured construction work in response to the strategy failed to improve significantly. It rose from 25.2% to 29.9%, with nearly half (47.1%) still saying they had made no change in procurement in response to the strategy.
Of those responding, just 4.6% said they had changed procurement significantly.
Government needs to do more to encourage people to take it seriously

Stephen Ratcliffe, UKCG
The Construction Strategy, drafted by then chief construction adviser Paul Morrell and launched by Cabinet Office minister Francis Maude in May 2011, was designed to reform public sector procurement of construction.
Since then seven of the biggest-spending government departments have signed up, including the Department for Education and the Department for Communities and Local Government, but this survey seems to show the strategy is failing to be endorsed by the wider public sector, including local authorities.
The findings come as a separate survey of Building's readers, conducted in advance of next month's Government Construction Summit, found that nearly nine out of 10 think the government is not doing enough for construction, and eight out of 10 that it is not doing enough to help small and medium-sized businesses.
In the survey of private clients 58% said government spending cuts were worsening business confidence.
The survey also found the public sector is continuing to struggle to catch up with the private sector in terms of adopting the more forward-thinking relationships with its suppliers recommended under the strategy. Just one in 10 public sector clients use project bank accounts, compared with 23.5% of private clients.
Graham Watts, chief executive of the Construction Industry Council, said there was "no excuse" for any part of government not to be formulating plans to cut costs.
Stephen Ratcliffe, director of the UK Contractors Group, said: "Maybe government needs to do a bit more in demonstrating some of the successful cases to encourage people to take it more seriously."

A Cabinet Office spokesperson said: "Our government Construction Strategy is ambitious in its plans to reform the construction industry and make it faster, more efficient, and more innovative.
"And we're showing it's possible to strip out waste and deliver value in public sector construction - just this week, we announced £10bn of savings for the taxpayer from across government in 2012/13, of which £447m were savings delivered through our Construction Strategy.
"This should itself encourage others across the wider public sector to take up the best practice benchmarks that our strategy sets out."
Lack of leadership on green policy harms investment
Construction clients are holding off investing in sustainable construction projects because of a lack of leadership from the government on the climate change agenda, a survey by Building has found.
The survey of over 300 clients, from the public and private sector, found that 62% of them would change how or whether they invested in their built assets if the government "gave a clearer and more consistent message that it will prioritise policy changes that aim to tackle the threat of damaging climate change". The survey found that a majority of both public and private clients want the government to more clearly prioritise policies designed to tackle climate change.
The findings come as a key amendment to the Energy Bill, that would have set a decarbonisation target for UK electricity, was defeated in parliament this week. The amendment was seen as a means to boost investment in green energy.

BIM boost
One area of the Construction Strategy where the public sector is making huge progress is in its use of Building Information Modelling (BIM). The Construction Strategy mandates use of Level 2 BIM on public sector projects by 2016. The survey found 38% of public sector clients had used BIM on one of their projects, more than double the 15% who had last year. However even here there is still cause for concern: public sector clients are behind the private sector in their adoption of the technology.
Click here for details or to buy the Client Intelligence White Paper