Putnam urges firms to produce more buildings on production lines to save time and money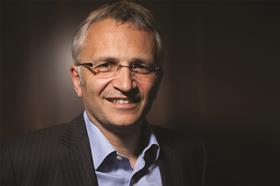 Up to 70% of construction projects could be built using off-site manufactured components, according to the boss of Skanska UK.
Speaking to Building at the Ecobuild conference in London, Skanska UK chief executive and president Mike Putnam urged firms to emulate the automotive industry by producing more buildings on factory production lines to save them and their clients time and money.
Putnam said: "The potential is very high - 60-70% of projects could be off-site manufactured.
"Why can't we get to a position in the future where construction sites are like car production lines? A place where you happen to bring everything together and bolt it together on site. I see no reason why that can't be the case."
Putnam's comments come after a raft of firms - including investor Legal & General, client Urban Splash, contractor Laing O'Rourke and architect Roger Stirk Harbour & Partners - have announced plans to build thousands of low-cost homes a year using off-site manufactured components.
Putnam said the government's Construction Leadership Council - of which he is a member – is aiming to drive greater adoption of off-site construction: "We have in mind bringing the whole industry up by getting collaboration going - that's a current area of focus and the government is very keen on this."
At Skanska, rolling out off-site manufacturing capabilities is a key part of the firm's five-year strategy running to 2020, Putnam said.
The firm is already expanding its off-site manufacturing facilities for structural steel in Doncaster and M&E in Slough, and is also investing in its "flying factories" concept of small mobile off-site manufacturing units and trials of 3D concrete printing.