Firm's infrastructure division eyes opportunities in rail, roads, gas and water markets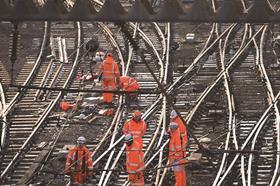 Skanska wants to expand its UK infrastructure business over the next five years to capitalise on the slew of planned investment in rail, roads, gas and water projects.
Mike Putnam, Skanska UK's president and chief executive, told Building the firm's infrastructure division will gear up to target mega projects like HS2 and more work with water and gas companies.
He said: "We see very strong opportunities in the infrastructure sector. Politically there's a big focus on infrastructure and there's support across all political parties.
"But it's not just infrastructure for government - we expect increased spending in the regulated sectors, like water and gas."
Putnam's comments come after Skanska UK's construction business posted solid results last week for the 2015 calendar year, but a dip in its profit margin below 3% to 2.4%.
According to its Swedish parent company's group results, Skanska UK's construction business posted a 2% drop in operating profit to £36.3m, down from £37.2m, while revenue jumped 21% to £1.5bn, up from £1.2bn.
We expect increased spending in the regulated sectors, like water and gas

Mike Putnam, Skanska UK
Putnam said the UK construction business "clearly wants to drive up" profit, adding that the parent company's target is for a 3.5% margin across its construction businesses, although he said the group realised this would be a "struggle" in the UK.
He said Skanska UK's profit figures "compared well" with its competitors, many of which have posted slimmer margins or losses in recent months.
Skanska UK is embarking on a new five-year strategy this year, running to 2020, which will focus on earlier involvement with clients, the digital economy and social as well as business goals.
By the end of 2015, Skanska UK was using level-two BIM on all its projects.
Overall the Skanska group posted an increase in revenue and operating profit for 2015, with revenue up 7% to 153bn SEK (£12.5bn), up from 143.3bn SEK (£11.7bn), while operating profit increased 17% to 6.3bnSEK (£514.5m), up from 5.4bn SEK (£442.4m).
Skanska UK began work on a number of major projects last year, including the £140m new Papworth hospital in Cambridge and three AMP6 projects for Thames Water, Anglian Water and Welsh Water worth a combined £454m.
The firm completed major jobs including £118m London office development One and Two New Ludgate for Land Securities, a £34m extension to Thameside prison, and seven new schools in Bristol.