Trade Union body issues warning over worker deaths as Halcrow and CH2M Hill respond to Guardian investigation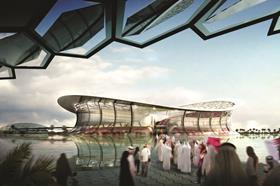 Construction of the Qatar 2022 World Cup could claim the lives of at least 4,000 migrant building workers, according to the International Trade Union Confederation.
The ITUC, which defends workers rights and interests, estimates that at least half a million extra workers from some of the world's poorest countries including Nepal, India and Sri Lanka will be needed for the World Cup venues and infrastructure.
It has been studying builders' deaths in the Gulf emirate for the past two years and believes that - thanks to high temperatures and harsh conditions at work plus poor and overcrowded living conditions - the annual death toll on sites could rise to 600 a year, or close to a dozen a week, unless conditions are improved by the Doha government.
The ITUC's warning follows an investigation published today by the Guardian newspaper which revealed that 44 Nepalese workers died between June 4th and August 8th this year, around half of these from heart failure or accidents at work.
While projects directly related to the World Cup have yet to start on site, the Guardian investigation focused on other huge construction schemes needed in order to host the event.
These include Lusail City, a £28bn city being built from scratch which is set to include the Foster & Partners-designed stadium which will host the World Cup final.
Lusail City involves lead consultant and British engineer Halcrow, part of the CH2M Hill group which itself is the overall programme manager employed by the Qatar 2022 Supreme Committee.
The newspaper's investigation recounted desperate stories of forced labour from workers at Lusail City including individuals owing huge debts who claimed to have had salaries withheld and passports confiscated by contractors or sub-contractors.
"The company has kept two months' salary from each of us to stop us running away," one man told the Guardian.
CH2M Hill said it had a "zero tolerance policy for the use of forced labour and other human trafficking practices."
A spokesperson for the firm added: "Our supervision role of specific construction packages ensures adherence to site contract regulation for health, safety and environment.
"The terms of employment of a contractor's labour force is not under our direct purview."
Back in May, Dubai's largest contractor Arabtec was hit by a rare strike by thousands of migrant workers protesting about low pay.