Multiplex was pulled days before it was due to start £250m job in February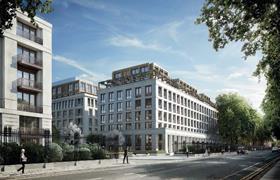 Qatari Diar is hoping to start work by the end of the year on the phase of the £1bn Chelsea Barracks scheme it pulled Multiplex from just days before it was due to start.
Building understands work is now expected to restart by the end of November although it is believed Multiplex is out of the running for the main contractor role.
The 22 Bishopsgate builder had been appointed main contractor on the fourth phase of Chelsea Barracks in a deal worth around £250m. Keltbray had been due to carry out the concrete frame and basement work – which had a pricetag of around £60m.
But the pair were stood down in February while the developer had a rethink over Multiplex's appointment.
At the time, the developer said: "We are considering how best to procure the subsequent building works in an increasingly difficult construction market."
It is understood one of the reasons for the decision was Carillion's collapse and concerns the developer had over the number of firms able to take on the sort of super prime residential work being carried out at Chelsea Barracks.
The developer said it had nothing more to add to its original statement in which it said it was "continuing to work together with all stakeholders towards an efficient and pragmatic outcome for the benefit of future residents".
Meanwhile, the architect on the fourth phase has again redrawn its plans for the work which will see a number of large flats make way for smaller one and two-bed units.
It is the second time in less than a year Eric Parry Architects has applied to increase the quantity of homes delivered via the three buildings that make up stage four.
Under the latest adjustments, the firm is looking to add six new flats which would take the total number of units delivered in the phase to 97.
Changes to the original planning permission last year allowed alterations to the phase's other blocks, increasing the number of flats from 88 to 91.
Mace is building Chelsea Barracks' first three phases which are due to wrap up by next spring.