Lone Star has had to extend its £70m offer for Quitain again having failed to achieve the recently lowered threshold of 75%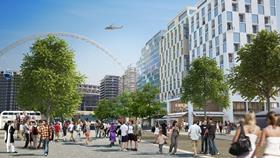 US private equity firm Lone Star has extended its £700m offer for Wembley developer Quintain for a second time.
The Dallas-based company is offering 131 pence per share to Quintain's shareholders, and has extended the deadline until 1pm 30 September. The bid is being made through Lone Star's investment vehicle Bidco, which is indirectly controlled by Lone Star Real Estate Fund IV.
At the close of the second deadline at 1pm yesterday, Bidco had received acceptances for the cash offer from 71.73% of the existing shareholding of the firm.
Bidco had at the end of last week lowered the acceptance threshold of the offer from 90% to 75%, having originally only received a 53% take up of its offer.
Lone Star has said its offer would allow Quintain to more rapidly build out its Wembley development.