Developer brings forward 1250 homes at scheme to regenerate stadium surrounds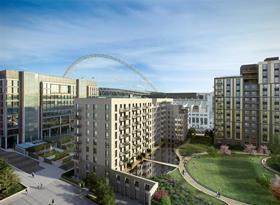 Quintain has accelerated the pace of development at its 5,000 home Wembley Park scheme in north-west London.
The developer's half-year results for the six months ending September, which were released to the stock exchange this morning, show that its development pipeline has grown to 1,700 homes.
This figure is up from the 475 homes that the company had just started building when it published its full year results six months ago.
The balance is accounted for by 386 homes for which detailed planning consent has been submitted and another 850 currently out to public consultation.
The number of homes in the pipeline now equals one third of 5,000 homes that Quintain has outline consent for at the Wembley Park development, a long-term plan to regenerate the area around the national stadium.
Quintain said that while the growth is slowing in the prime central London tier housing market is slowing, there is continued "good demand and strong pricing in what it describes as the "under-supplied mid-mainstream tier".
A spokeswoman said: "We think we are targeting an excellent sector of the market where there is undersupply and recent sales have given us confidence to bring these homes forward."
According to today's results, the average selling price of apartments at the development over the last six months was £604 per sq ft, compared to £570 per sq ft beforehand.
The application for detailed planning consent covers the "Alto" section of the scheme, on which subject to planning consent, Quintain is planning to start construction next summer.
The developer has also launched a public consultation to re-masterplan the area, which is intended to deliver 850 dwellings, connecting the rest of the site to Wembley Stadium Overground station.
Of the 475 homes currently under construction, Quintain will own and let out 143 as private rented sector accommodation from early 2016.
The results also show that the Quintain's debt burden has dropped, from £208.9m to £178.3m, which represents a leverage ratio of 29% compared to 35% at the time of the full year results.
The group reported a profit after tax of £11.1 m over the six months to September, up from £7.1m in the equivalent period in 2013. The value of the group's assets grew to £611.6m compared to £595.4m in March.