Steve Morgan says government not doing enough to help out
The founder of housebuilding giant Redrow has pledged to pay for 1,000 Ukrainian refugees to come to the UK.
Steve Morgan also criticised the government for its response to the crisis, saying it was moving too slowly to help people fleeing the war which is now in its third week.
Through his charitable organisation the Steve Morgan Foundation, Morgan said he will also pay for the accommodation for the refugees for six months – adding it is "impossible to put a figure on how much it will cost".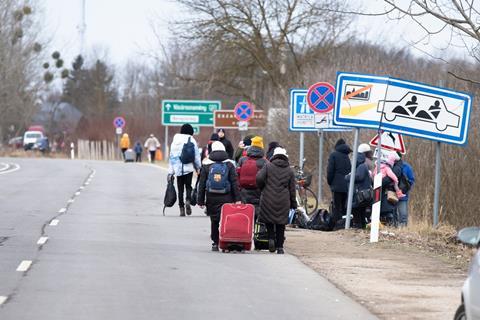 Explaining his decision, Morgan told the BBC: "Like a lot of people I just felt very frustrated that, in this country in the UK, we're not doing enough for the refugees."
Morgan, who founded Redrow in 1974 and the foundation in 2001, added: "I felt so helpless watching the images of desperate families fleeing Ukraine that I knew I had to do something.
"The Steve Morgan Foundation hasn't got the facilities to do it ourselves but we can meet the cost of bringing up to a 1,000 refugees to the UK. This is not the time for delays. I hope other people will do the same."
He said staff at the Steve Morgan Foundation staff have been contacting MPs for clarity on the sponsorship process and are awaiting a response. The foundation last year distributed £25.8m to charities struggling with the pandemic.
Morgan, who according to last year's Sunday Times Rich List was worth £881m last year, said he had also been in discussions about chartering planes to bring refugees over to the UK.
He added: "Over the weekend I was speaking to someone in Gdańsk in Poland. It's a long way from the fighting but there are 200,000 people there looking for refuge. So many of them are looking to come to friends and relatives in Britain and yet we have this wall of bureaucracy around the British Isles. We need this to be shifted. The government needs to do something."