Founder and chairman will report a slight slowdown at firm's AGM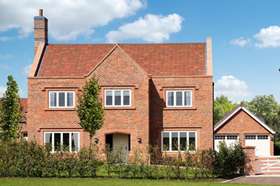 Fears around Brexit and the future of the economy have hit Redrow's house sales, according to company founder and chairman Steve Morgan.
Compared with what he described as a "very strong sales market" 12 months ago, he will tell the firm's AGM later today that while sales market had been buoyant in the first quarter, "ongoing political and economic uncertainty has resulted in a slight slowdown in sales".
However Morgan will also say that despite slower market conditions, net private reservations in the 18 weeks to 3 November were 2% above last year at 1,548.
The average selling price of private reservations for the group's financial year to date is £371,000, up 5%.
Morgan said Redrow's order book stood at a record £1.2bn, up 3% on the same period last year, and recently legally completed the first 20 apartments at its 3,000-home Colindale Gardens development in London.
The housebuilder will announce its first half results on 7 February 2018.