Problems discovered in November 2016 which bust firm said cost £20m to repair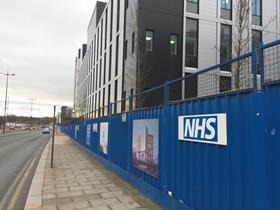 A director of the project client on the Royal Liverpool Hospital scheme that was being built by Carillion has admitted that work to repair defective concrete beams has still not been completed.
Charles McLeod told a parliamentary inquiry looking into the firm's collapse last month that defects were first discovered in November 2016.
Two beams were discovered to have cracks so severe that exclusion zones were set up above and below the affected areas which remained in place until the end of last March.
A further six beams were discovered to have less significant cracks following an investigation by Carillion.
McLeod said two defective beams still needed work carrying out, adding the company was talking to alternative contractors "to ensure the works are completed safely in line with a revised timetable to be agreed with the [hospital] trust".
He admitted: "These events [have] caused considerable delay and disruption to the works." He said as a result of the defects, the monthly amount if paid Carillion – which he did not specify – was cut to cover the cost of repairs.
McLeod said Carillion subsidiary TPS Consult was responsible for the structural design of the works with design work carried out by Kent firm Freyssinet, which is part of French giant Soletanche Freyssinet, and Oldham firm Heyrod Construction manufacturing and installing the beams on site. He added the costs of the work were currently "been borne principally" by the pair.
McLeod added that had the beams not been repaired "this could have resulted in at best, unsafe working conditions and at worst, injury and loss of life had the beams failed". He said five of the eight beams could have failed once the hospital began admitting patients.
He declined to comment further on the company's experience of working with Carillion and said it was in "ongoing negotiations with alternative contractors" about replacing Carillion.
He declined to say when it expects to appoint a replacement for Carillion saying it was "very likely seriously to hamper or jeopardise those negotiations".
In his evidence to the inquiry earlier this month, former Carillion chief executive Richard Howson said the problems with the beams added an extra £20m of cost to the job.