Australian firm spent A$170m on reorganising business last year
Lendlease sank into the red last year with the firm blaming the impact of covid-19, a restructuring and pulling out of non-core work for the slump.
In its results for the year to 30 June 2022, announced earlier this morning, the Australian firm posted a pre-tax loss from continuing operations of A$177m (£103m) – down from the A$274m (£160m) profit it made last time. Income slipped 2% to A$8.8bn (£5.1bn). It said its post-tax loss was A$99m (£58m) from a A$222m (£129m) profit last time.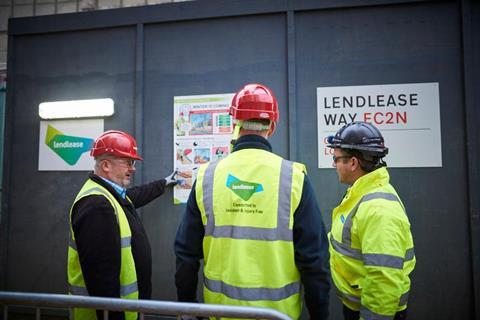 The firm, which is expected to find out soon whether it or Mace has won a £350m office scheme at 120 Fleet Street, added: "Resetting the organisation, including simplifying the group's operating model and addressing legacy issues while managing the ongoing impacts of covid, affected our financial performance."
It said its non-core businesses included its services arm with the firm saying the restructuring had produced annual savings of A$172m (£100m) with Lendlease spending A$170m (£99m) on restructuring costs.
Its construction business posted revenue up 3% A$6.6bn (£3.8bn) but it said income had been hit by the prolonged impact of covid in the Americas region which would affect 2023's performance.
Supply chain constraints and cost pressures, such as the escalating price of materials, meant margins at construction slipped to 2% from 2.7% with earnings dropping 24% to A$131m (£76m).
The firm warmed that margins for 2023 would be in the 1.5% to 2.5% range – lower than its target range of between 2% and 3%.
Its backlog revenue for construction was A$10.5bn (£6.1bn), down A$800m (£467m) on 2021's number. Lendlease said A$7bn (£4bn) of this figure came from its home market.