A team led by Theis and Khan Architects has been picked to design RIBA's new offices at 76 Portland Place, London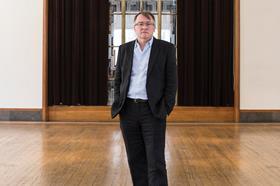 RIBA said the new premises, just a couple of doors from its current home, will be transformed to provide "high-quality new office space that will be exemplary in its design, and environmental sustainability".
The Theis and Khan team, which also included Max Fordham and Price & Myers, was selected following a panel interview with each of the six shortlisted teams.
The shortlist also included: Ben Adams Architects; Moxon Architects; Piercy & Company London; Shedkm Architects; and Spacelab.
RIBA president Stephen Hodder (pictured) said: "The selection panel was greatly impressed by all the shortlisted teams' initial thoughts, approach to the project and their experience and ability to deliver within a constrained timeframe.
"Theis and Khan gave an exceptionally considered approach and clearly demonstrated how they aim to meet our aspirations.
"We were particularly inspired by the team's consideration of the relationship between our new premises and our main RIBA headquarters building, and how they had successfully delivered projects with such synergies in the past."