Judges heap praise on extension to restored 18th century farmhouse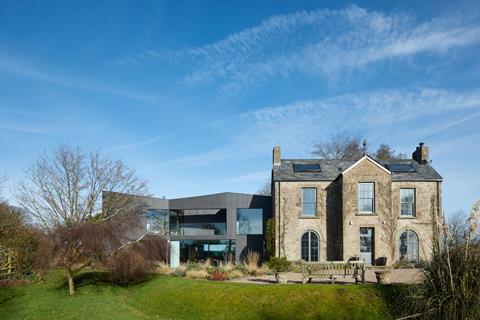 Alison Brooks Architects' contemporary extension to an 18th century farmhouse has been named as RIBA's house of the year for 2021.
Known as the House on the Hill, the home was praised by judges for the "seamless" integration of its new angular structure with the existing house, which has also been restored.
Amin Taha, who chaired the awards, said the extension added "depth of scale and richness of experience" to the farmhouse.
He said judges were impressed by the scheme's "fragmented form" and Alison Brooks Architects' "process of subtly breaking down the rigid and spatially predictable grid with spatial inflection".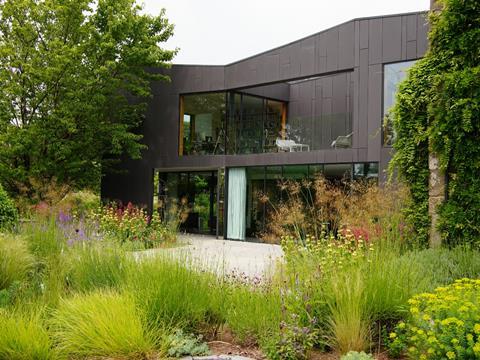 The two-storey extension, which replaces a large 1970s pool house, contains a central kitchen and dining area, a double-height living room, two bedrooms, an office and a first floor terrace.
The owners, David and Jenny Clifford, have scattered pieces from their vast art collection throughout the property, including on a gallery unit fitted to the extension's staircase.
Partially embedded into the hillside on a site overlooking the Wye Valley, the building is faced with a dark grey/brown cladding inspired by the nearby Forest of Dean.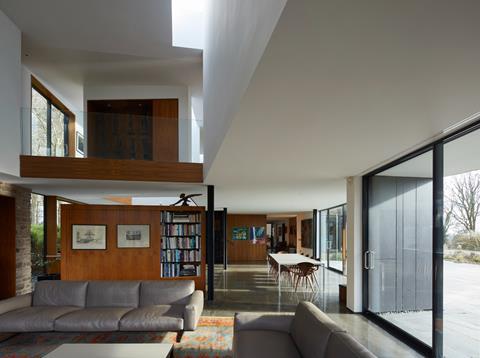 It also boasts impressive sustainability credentials, with an extensive green roof planted with native wildflowers and power supplied by solar panels and ground and air source heat pumps.
RIBA president Simon Allford said the scheme's geometric design "skilfully fuses together the old with the new – connecting two architectures separated by over 300 years".
He added: "Intriguing and distinguished, House on the Hill is the impressive result of a ten-year collaboration between the homeowners and their architect. This is an extraordinary labour of love in architectural form.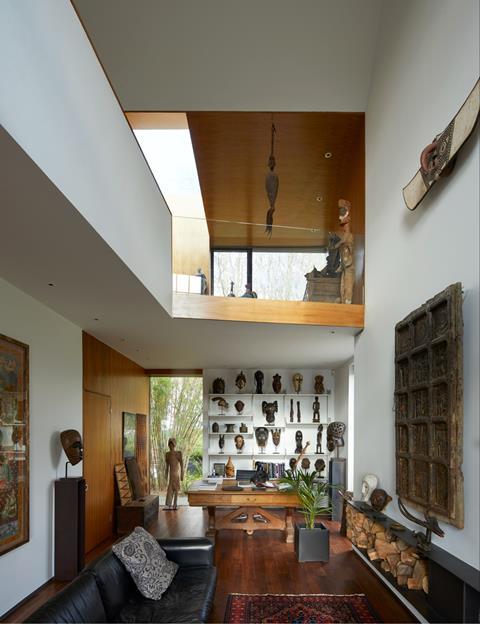 "Every detail has been meticulously considered and exquisitely finished, resulting in a truly remarkable home that enhances its unique setting."
Alison Brooks said the house "reveal a new way of living in the landscape".
"I see private house commissions as a rare opportunity to test new ideas in a concentrated form – they are the built equivalent of writing an essay. So, this accolade is a testament to my client's belief in the value of architecture and their willingness to embrace the new."
The Cliffords, who have been working on the project for decades, said they learned a "great deal" during the process.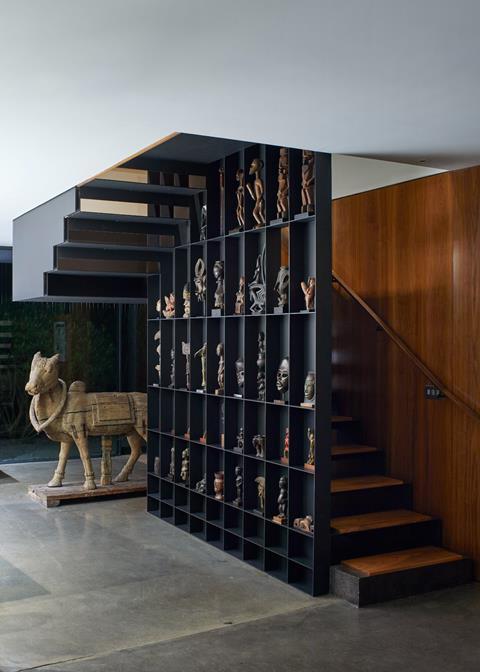 They described the interplay of the house and its landscaped gardens as an "ever-changing source of pleasure", adding: "To return to the house after a spell away is to renew our admiration of the scheme."
The winner of the award was announced in the final episode of Channel 4's Grand Designs which aired earlier this evening.
Other homes to make the final shortlist included entries by Tigg & Coll Architects, Type Studio, Tonkin Liu and 31/44 Architects.