Data shows strongest price growth since May 2010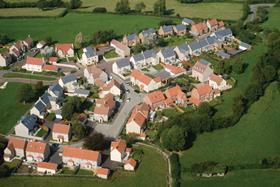 More estate agents expect house prices to rise than to fall over the next three months for the first time for over two and half years, in a further sign of a slow rebound in the housing market.
The December monthly housing market survey for the RICS finds that a balance of 1% more surveyors expect prices to rise than to fall – the first time this index has moved into positive territory since May 2010.
RICS' global residential director, Peter Bolton King, said the figures seemed to show the housing market was "over the worst."
The RICS said that this appeared to follow on from a stabilisation of prices over the last three months, with the percentage balance of surveyors reporting price increases rising from -8 in November to 0 in December. This was the first time this index has not been negative since Deecember 2010.
At the same time the balance of surveyors reporting increasing new buyer enquiries went up from 10 to 12, indicating fairly widespread growth.
The RICS put the gradual improvement down to the impact of the government's Funding for Leading Scheme allowing mortgage lenders to offer slightly better rates for home buyers.
The news comes as the latest government data shows that annual house price growth reached 2.1% in November, up from 1.5% in October. The data from the Office of National Statistics showed that much of the growth was in London and the South East, which saw 5% and 3% rises respectively. In the rest of the UK excluding London and the southeast, prices were up just 0.8%.
Peter Bolton King said the RICS' figures showed "confidence does appear to be improving." He said: "Our members are predicting that transaction levels will continue increasing in many parts of the country and it may be that we are now over the very worst.
"That said, more still needs to be done to ensure potential buyers can access the market at every level. Alongside this, there is still a clear need for more homes to be built."