Consultant Rider Levett Bucknall appointed as project manager and cost consultant to £70m commercial scheme in Uxbridge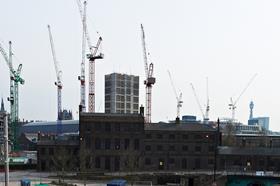 The project, developed by Landid and Brockton Capital, involves refurbishing the 152,000ft2 Charter Place office building and extending it by 75,000ft2.
The scheme also includes replacing the frontage of the building, adding 200 cycle spaces and a series of electric car charging points.
Contractor Bowmer & Kirkland is due to start work on site this autumn and the scheme is due to complete in spring 2016.
Anthony Chudleigh, associate at Rider Levett Bucknall, said it would "deliver a boost to the area".
He said: "The new design will see the inclusion of a new frontage which will give the building a distinctive look and make it an interesting feature for the street."
Trevor Silver, chief executive of Landid, said a "modern, connected, dynamic space" was needed to cater for the "dramatically changing" needs of "corporate occupiers".