Consultant Rise has won a prestigious role on the construction of the UK Pavilion at the Milan Expo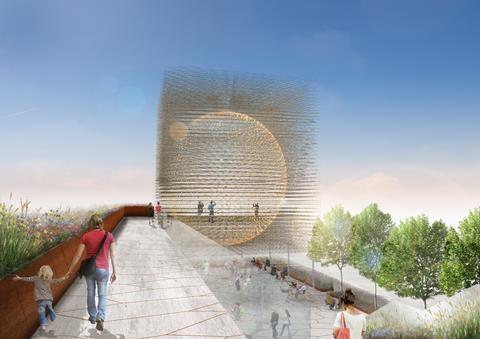 Consultant Rise has won a prestigious role on the construction of the UK Pavilion at the Milan Expo.
The government confirmed today the much-trailed announcement that next year's UK Milan Expo Pavilion would be designed by a team led by Nottingham-based artist Wolfgang Buttress, with the structure of the winning design referencing a honey comb.
But UKTI also announced that Rise would be acting as project manager, responsible for the delivery of the £6m pavilion, with the consultant teaming up with specialist firm Stage One, which will build the pavilion.
The Rise and Stage One team is understood to have beaten Mace and five other firms to the construction role on the project.
Aecom has also been appointed as client adviser on the scheme.
Bob White, chairman of Rise, said: "We are very excited to be involved in the UK Pavilion at Milan Expo.
"It enables us to sustain our particular interest in temporary structures, and allows us to continue our collaboration with Stage One on these project types.
Mark Johnson, managing director of Stage One, said: "This is a significant project for Stage One and reflects our increasingly strong relationship with architects and designers.
"It's a strong validation of our collaborative approach and our ability to deliver creative construction projects successfully."
Winning artist Wolfgang Buttress opened his first studio in Nottingham after graduating in 1987 and now employs seven people. The Buttress-led team beat seven other design teams to the role (see box below).
Once the UK Pavilion is built, visitors will walk through a fruit orchard and enter a natural wildflower meadow.
As they near the centre of the meadow, the focal point of the structure will come into view: a golden orb made of fine steel lattice based on the design of a honeycomb.
The "Hive" will pulsate and buzz with the noise of a real bee colony.
Buttress said: "My wish is for visitors to engage with the UK Pavilion as a whole and for the hive to be recognised as a barometer for the health of the earth; drawing parallels between a hive and human society.
"I'm very excited to have this opportunity to work with such a great team, it's an amazing challenge and one we will rise to together."
The UK Pavilion at the last World Expo in Shanghai 2010, designed by Thomas Heatherwick, attracted international acclaim and won gold for best design.
Over the course of the six-month Expo more than eight million people visited the Pavilion.
Trade minister Lord Livingston said: "The UK's participation in the Milan Expo will promote the UK's world leading expertise in the creative, life sciences, agri-tech, and food and drink sectors to our top trade and investment partners.
"Through the UK Pavilion, we will reach millions of visitors and build on the reputation of the UK established at the 2010 Shanghai Expo and the London 2012 Olympic Games."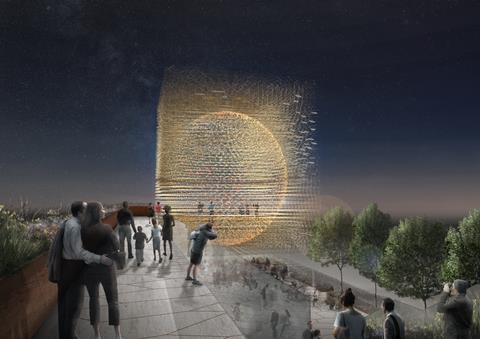 Winning team: Wolfgang Buttress Studio with Simmonds Studio, BDP, Slow Food UK, Martin Dewey, Dr Martin Bencsik, John Dorat, Arnia, The Social London, Nick Dewey, Robin Turner, Carl Gosling, Clear Construction Consultants Ltd, Joff & Ollie, Professor Rudi Klein and Paul Smith.
Shortlist:
Amanda Levete Architects with Gross Max, Woodroffe Bassett Design, AKT II, Max Fordham, Equals, The Nature Conservancy, Exposure, The Future Laboratory and Charles Leadbeater.
Allford Hall Monaghan Morris and Studio Myerscough with Scanlab, Atelier Ten, Eckersley O'Callaghan, Gillespies, and Mindseye.
Asif Khan with AKT II, Atelier Ten, Ralph Appelbaum Associates, iart, ES Global, Dr. Rachel Armstrong, Andrew Pimbley and The Skinny Bib.
Barber Osgerby with Universal Design Studio, Map Project Office, Max Fordham, Arup, Land Use, Gensler, B Reel, Movement Strategies, Speirs & Major, Lend Lease, Sarah Miller & Partners, Imperial College, Science Museum, Angela Hartnett MBE.
David Kohn Architects with Bompas & Parr, Jane Wernick Associates, Max Fordham, Jonathan Cook Landscape Architects, Exploration Architecture, Sara de Bondt Studio, Change Performing Arts, Random International, London Research Kitchen, Tristram Stuart, Nicola Twilley / Edible Geography and Progetto CMR.
Grant Associates with Wilkinson Eyre Architects, Thomas Matthews, Atelier One, Atelier Ten, Seawater Greenhouse, Cornwall Food Foundation/Fifteen, Buro 4, James Wong, PT Consultants, Claire Patey, Louis Thompson, Sennep, Useful Simple Trust, Feeding the 5000, Sustainable Food Trust, LEAF and Five Hats.
Paul Cocksedge Studio with Arup, GrowUp Urban Farms, SustainRCA and Blippar.