Data from Hudson Contract follows last week's PMI report that worst of supply problems could be over
The cost of construction labour is seeing a "gradual return to normality" following months of sharp increases, a new study by Hudson Contract has said.
It is the second set of data in a week to suggest that the supply problems which have dogged sites all year, including getting hold of materials, may have peaked.
Last Thursday, the latest PMI data drawn up by IHS Markit and CIPS said that the worst may be over with Tim Moore, director at IHS Markit, which puts together the survey, adding: "There were widespread reports that shortages of materials and staff had disrupted work on site, while rising fuel and energy prices added to pressure on costs. Nonetheless, the worst phase of the supply crunch may have passed."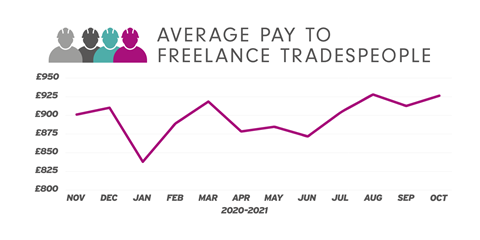 According to Hudson Contract, the rate of cost inflation in the industry is starting to level off following a steep rise from June to August.
The payroll firm's analysis of pay trends found that average weekly earnings for self-employed tradespeople in England and Wales were £927 in October, a rise of 1.5% on the month before and half that of the 3% hike in August.
Average weekly wages in hotspots such as the North-west fell by 4.4% in October compared to the previous month while in the booming East Midlands they fell by 3.8%.
The rise was below average in London, where wages edged up by 0.9% compared to September, and in Wales where they increased by 0.8%.
In Yorkshire, however, weekly earnings shot up by 9.3% month-on-month and by 7.1% in the South-west.
Wages are still expected to rise during the autumn, which is traditionally the busiest period with tradespeople doing as much work as they can before the festive break and the cold weather kicks in.
But Hudson Contract managing director Ian Anfield said the softening of the average increase across all regions suggests the industry is "steadily recovering its labour capacity".
He said: "We are seeing a gradual return to normality in the industry with demand for labour mirroring seasonal trends seen before the pandemic."
He added that some lower-skilled workers who switched to driving delivery vans instead of working in construction may have come back to the industry.
He also said that higher skilled tradespeople who had been collecting the government's Self Employed Income Support Scheme, its covid support package for self-employed people, would be returning to work following the end of the scheme.
He said: "We can see that labour rates are starting to level off. There is a lot of activity, people are coming back to work and moving themselves around the country."
Official statistics show that construction workers claimed grants worth £966m in the last round of the scheme, which covered the period to 15 September.
This followed claims of £3.1bn in the period to 31 July 2020, £2.4bn in the period to 31 October 2020, £2.3bn in the period to 31 December 2020 and £2.2bn in the period to 6 June 2021.
In total, the sector has claimed grants worth nearly £11bn through the scheme, which would amount to hundreds of millions of man-hours.