Ebury Bridge Estate will make way for £350m housing development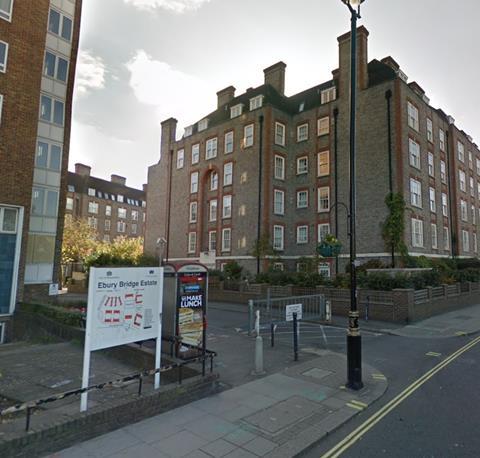 Westminster council has been accused of "underhand and unscrupulous" behaviour to fast-track demolition of a 1930s estate to make way for a £350m housing development to be built in the shadow of the upmarket Chelsea Barracks residential scheme.
A planning application for the 750-home development on the site of the Ebury Bridge Estate (pictured) has yet to be approved.
But permission for demolition of 336 homes was granted through a prior approvals process under the permitted development rights legislation.
Tom Copley, Labour London Assembly housing spokesperson, said this amounted to the council "using all the loopholes at their disposal to rush through these underhand and unscrupulous demolition plans".
And he added that: "Scheduling demolition works before a full planning application has been submitted leaves significant uncertainty about the estate's future."
In a statement, Westminster council's Rachael Robatham, the authority's member for regeneration, said: "It's extraordinary that a Labour London Assembly member is trying to stop this project, especially given the shortage of affordable housing in the capital."
Work involves redeveloping the estate under a masterplan led by Arup. The estate is one of the borough's oldest with the majority of the buildings having been built in the 1930s.
Demolition contractors have put in bids for the £3m contract but a council spokesperson said no firm has yet been appointed.
The council said half of the 752 new homes would be affordable and revealed that all council tenants who would be affected by the first phase of works have accepted to be rehoused.
The development will sit across the road from the £1bn Chelsea Barracks scheme in west London which is being developed by Qatari Diar and will have 34 houses, 329 apartments and a 90-bedroom hotel. It is being built by Mace and Multiplex.