The Scottish government has backed 14 large-scale strategic projects in its national planning blueprint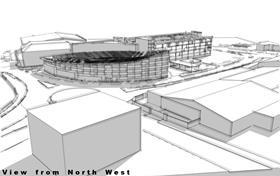 The new Scottish National Planning Framework 3 (NPF3), published yesterday, confirms Holyrood's support for more than a dozen large-scale national developments, including major regeneration schemes at Dundee Waterfront and Ravenscraig, carbon capture and storage schemes in Peterhead and Grangemouth, and strategic enhancements to Scotland's airports.
Other projects identified for support include improvements to freight handling capacity on the Forth River and Aberdeen harbour as well as a new national long-distance cycling and walking network.
NPF3, and its sister Scottish Planning Policy document, also published yesterday, are designed to shape lon-term economic development and local planning policy north of the border in areas such as transport, town centres, energy and infrastructure.
Launching the publication of NPF3 in Glasgow, Scottish planning minister Derek Mackay said: "This strategic focus will support the regeneration and reindustrialisation of Scotland, as well as improving transport and connectivity links, and ensuring sustainable development through support for green networks and low carbon energy supply."
Scottish housebuilders welcomed the documents' backing for a presumption in favour of development, which it said was especially significant given that only six of Scotland's 32 local authorities a five year effective land supply in place to support housing.
Blair Melville, head of planning strategy at industry body Homes for Scotland, said: "With less than 15,000 new homes completed last year, the lowest level since 1947, we welcome the firm view expressed by the Planning Minister that local authorities must focus on delivery of the many thousands of homes of all tenures that Scotland desperately needs.
"His commitment to use the full range of powers available to him to ensure this is especially significant given current proposals to increase planning fees."