Scottish minister announces Unite, Unison, and the GMB have been asked to work on procurement guidance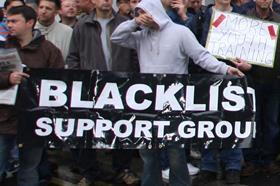 The Scottish government has invited trade unions to advise it on ensuring public procurement north of the border is untainted by blacklisting.
Speaking during a members' debate on blacklisting held at the Scottish Parliament last week, youth employment minister Angela Constance said that Unite, Unison, the GMB and Scottish trade union centre STUC had been asked to work on guidance for procurement and public contracts "to ensure blacklisting is consigned to the history books".
She added that the Scottish government intends to introduce "revised termination clauses" to ensure that contractors abide by the relevant legislation, and is considering anti-blacklisting amendments to the forthcoming Procurement Reform Bill.
Building revealed last month that around two dozen councils in the UK have passed motions supporting a campaign by the GMB not to "award any more public work to the companies that operated the blacklist till they compensate those they damaged".
Constance, who was responding to a debate on blacklisting last Thursday led by Labour MSP Neil Findlay, called the practice "wholly unacceptable" and said the Scottish government would look closely at the conclusions of the Scottish Affairs committee's ongoing inquiry into blacklisting.
Findlay, a former bricklayer, said there are around 400 names of people in Scotland on the blacklist operated by the Consulting Association (TCA) and used by many construction firms.
He called for a "Scottish-focused inquiry into these activities to establish the true extent of this appalling scandal".
However, Constance said it would be wrong to pre-empt the final findings of the select committee.
Speaking to Building ahead of the debate, Findlay said that the Labour party in Scotland is demanding that the dozens of contractors that paid TCA should compensate its victims.
"We want public and personal apologies … and the establishment of some form of fund to pay those affected," he said.