Welsh government tells 103 public bodies to exclude unrepentent firms with history of the practice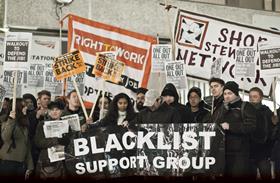 The Welsh government has unveiled measures to ban firms with a history of blacklisting from gaining public sector work and has called on the rest of the UK to follow suit.
Welsh finance minister Jane Hutt has told 103 public sector bodies in Wales, including local councils, NHS and police organisations that they can exclude such companies from public contracts unless the firms have "self cleaned" by taking measures such as compensating victims of blacklisting.
The public sector in Wales spends around £1bn a year on construction and the action taken by the Welsh government is being seen as the most significant attempt to date to "blacklist the blacklisters."
More than two dozen local authorities around the UK have also passed motions in support of such a procurement approach while the Scottish Government said in July that it was looking to introduce similar measures, though it is yet to detail them.
Hutt said: "The use of blacklists is wholly unacceptable and I fully sympathise with the individuals and their families who have suffered a terrible injustice as a consequence of contractors engaging in this practice.
"Procurement is an important part of [our] overall policy toolkit…I am determined to take action in Wales. I trust that other governments in the UK will take similar action if they have not already done so."
The Welsh government has issued a 'procurement advice note' to all major public sector organisations setting out the circumstances under which they can exclude firms.
This claims that more than 100 of the individuals already identified as being named on the 3,200-strong blacklist held by the now defunct Consulting Association - which worked with 44 major construction firms until its closure in 2009 – live in Wales.
The note says that contracting authorities can exclude firms under the 2006 Public Contracts Regulations because blacklisting can amount to "grave misconduct".
However, it cautions that exclusion must be considered on a "case-by-case basis" and suggests that public bodies seek legal advice.
It also suggests that firms can escape exclusion through other self cleaning measures such as putting in place "staffing or personnel" measures to avoid any reoccurance of blacklisting.
Up until now, construction firms which worked with the Consulting Association have not proactively paid compensation to victims although a number of them including Sir Robert McAlpine, Carillion, Balfour Beatty and Skansksa are currently facing claims in the High Court.
An investigation carried out by Building in May also found that more than 60% of the HR managers in the industry who worked with the Consulting Association and are still known to be employed remain in similar positions in the same firms.