Trade unions say they were set to be excluded from the government's new Construction Leadership Council until the last moment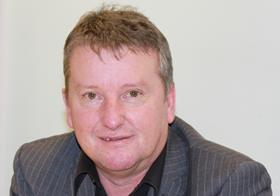 Trade unions were set to be excluded from the government's new Construction Leadership Council, until lobbying resulted in a seat for Ucatt general secretary Steve Murphy, unions have said.
The 30-strong council, which will meet at least three times a year and is chaired jointly by business secretary Vince Cable and Network Rail chief executive David Higgins, is intended to drive implementation of the sector's new industrial strategy.
But despite boasting a wide variety of members including business minister Michael Fallon, chief construction adviser Peter Hansford and bosses such as Kier's Paul Sheffield and Laing O'Rourke's Anna Stewart, there was originally to be "no union presence" according to the UK's largest union Unite.
Unite assistant general secretary Gail Cartmail said lobbying of the Department for Business, Innovation and Skills (BIS) led by the TUC resulted in the acknowledgement there should be union involvement "at a very late stage".
She said: "The [2009] Gibson Review said that unions should be involved in drawing up industrial strategy and, as far as I'm aware, this is still policy for BIS - it should not be party political.
"What my union wants is an industry which is fit for purpose. We know we are going to come out of the downturn so we want an industry which can come together to fix the skills gap and [produce] more direct employment."
A spokesperson for dedicated construction union Ucatt, said: "Ucatt had been lobbying the department for Business since early this year in order to ensure that workers were represented on the new Construction leadership Council. Workers are the biggest stakeholder in the industry.
"If the construction industry is to tackle some of its greatest challenges with regard to safety, ill-health and the lack of apprenticeship and skills training then it is absolutely essential that unions are fully involved in the process."
A BIS spokesman said: "The Construction Leadership Council brings together key industry bodies and senior representatives from government to reflect the breadth of UK construction. Membership was given careful consideration in close consultation with industry.
"The Council is pleased to have UCATT onboard representing the industry's unions."