Four year deal has £80m price tag
The team in charge of the Palace of Westminster upgrade has begun the search for surveyors to carry out dozens of inspections to find out what work needs doing and how much it will cost.
The Houses of Parliament Restoration and Renewal Programme said more than 100 surveys will be required to map out in detail the work required to revamp the grade I-listed building.
The work has an £80m price tag and will be carried out over four years and comes after a long-awaited review into the programme was published earlier this month.
Surveyors will run the rule over the condition of all the M&E systems including the Victorian heating and cooling system.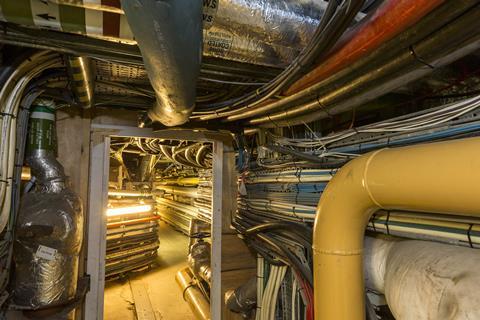 They will also look at the miles of gas and electric pipes that run alongside one another in the basement and in the thousands of spaces in floors, walls and risers that were originally designed as part of the Victorian ventilation system.
Many of the systems reached the end of their expected life decades ago and urgently need replacing.
Other surveys will focus on archaeology and the structure of the building and investigators will also look at fire safety, the condition of windows, walls, floors and stonework as well as heat loss from the building.
In all, eight categories are being advertised on the programme's Intrusive Surveys Supplier Framework.
This month's review into the proposals said keeping peers and MPs on site while work is carried out will cost billions more and take decades longer.
It said the Palace of Westminster should be decanted while work to overhaul the building is carried out. Peers are set to be billeted in the nearby QEII Centre while MPs are expected to relocate to the fromer Department of Health headquarters at Richmond House.
The review by the project's sponsor board found that the grade I-listed building is falling apart faster than it can be fixed, with the cost of maintenance projects and ongoing works recently doubling in just three years to £127m a year in 2018/9.
It told the government it was "imperative" to push ahead with the plans.
No official figure has been put on the cost of the work but earlier this year Public Accounts Committee chair Meg Hillier told Building that she expected it to be at least £12bn.
Firms already working on the job include architect BDP, project manager CH2M, now owned by Jacobs, and engineer Mott MacDonald.