Midland Met still scheduled to be finished by Balfour Beatty in 2022
The West Midlands hospital stalled by Carillion's collapse two-and-a-half years ago looks set to be delayed by the covid-19 crisis.
Documents published ahead of tomorrow's Sandwell and West Birmingham Hospitals NHS trust board meeting have revealed there are concerns about the pandemic causing further delays to the Midland Metropolitan hospital project.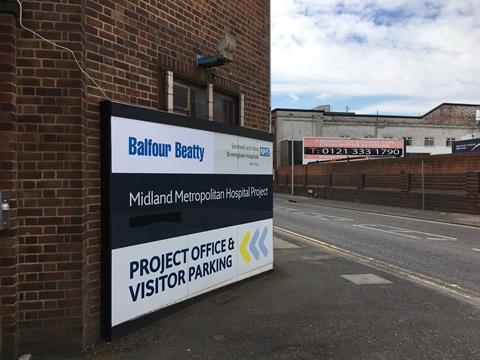 The papers said: "[Trust chief executive] Toby Lewis reported that it was too early to say if there would be any significant delay in opening and guessed that it would be weeks/months rather than years."
The hospital, which is now being built by Balfour Beatty, is currently due to open in time for the 2022 Birmingham Commonwealth Games.
According to the documents, when the board last met on 7 May, 160 people were still working on the design phase of the Midland Met.
Lewis also said he had received a detailed report from the trust's estate major projects team and Balfour Beatty about how social distancing requirements would be maintained as the number of on-site staff grows over the next six months.
Last month, the NHS trust behind the Royal Liverpool hospital programme, the other hospital project scuppered by Carillion's collapse, also flagged concerns about further delays caused by coronavirus.
The Royal Liverpool Hospital job, which Carillion won in 2013, was originally meant to open in 2017 and is also scheduled to open in 2022.